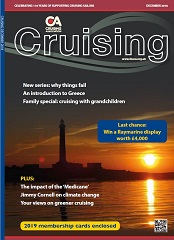 In our quarterly magazine, you'll find more than 100 pages of cruising news and features, updates on the activities of the CA's groups and committees and our latest discount list.
Published in full colour, it is sent directly to members who can also view or download it from our website. Although not available to non-members, you can view the latest sample issue here or by clicking on the cover image.
Receive a regular copy of our electronic newsletter and sample quarterly e-magazine, simply provide your email address below. (Your email address will be retained for a maximum of 24 months during which period it may be associated with your IP address, which is logged for security purposes.)
Opt-out any time. We keep your data safe. Read our privacy policy here.
Previous sample issues of the magazine are available below.
Regular articles and features include:
News from the CA, Cruising and Local Sections
Updates on HLRs and discounts
Technical articles from RATS - Regulatory and technical advice
Cruising tales from around the world
Reports on rallies
Book reviews and members' classified adverts
Recent articles include:
Reflections on our 110th Anniversary from President Judith Grimwade
Up-coming events for the diary include a host of CA events in London, Scotland's Boat Show, our new North-West Roadshow at Ellesmere Port. an Ocean Safety Day in Plymouth and a one-day World Cruising Seminar with Jimmy and Doina Cornell at the Royal Harwich YC
Our Crewing Service, putting skippers and crews in touch with one another, hosts monthly meetings from October
CA competition winners share their experience having won a fabulous one week charter on the Clyde with Plainsailing.com
What a load of rubbish – Green cruising and how do we minimise our foot (or boat) print?
The CA's London Autumn 2018 programme – a veritable cornucopia of fascinating subjects and destinations covered here!