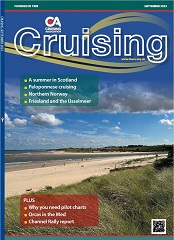 In our quarterly magazine, you'll find more than 100 pages of cruising news and features, updates on the activities of the CA's groups and committees and our latest discount list.
Published in full colour, it is sent directly to members who can also view or download it from our website. Although not available to non-members, you can view the latest sample issue here or by clicking on the cover image.
To receive a bite-sized edition of our quarterly e-magazine Cruising by email, you need to enter your email address below. (It will be retained for a maximum of 12 months during which period it may be associated with your IP address, which is logged for security purposes.)
CA Members already receive all news & copies of Cruising magazine, so there's no need to sign up; however Crewing Service members can also sign up here.
Opt-out any time. We keep your data safe. Read our privacy policy here.
Previous sample issues of the magazine are available below.
Regular articles and features include:
News from the CA, Cruising and Local Sections
Updates on HLRs and discounts
Articles on technical and regulatory subjects from our Regulatory & Technical Services group
Cruising tales from around the world
Reports on rallies
Book reviews and members' classified adverts
Recent articles include:
Launch of the 2024 edition of the CA Cruising Almanac
Orca project update: recent shifts in behaviour and trials of a new acoustic deterrent device
Tom Cunliffe talks about AngelNav
Norwegian cruise: Lofoten to Ålesund
My favourite anchorage series: Iggy Creek, in the Ionian
Autumn/winter lecture programme in full swing