Recounting the latest in a series of adventures that began with an east-west transit of the North West Passage in 2014, in this talk Steve Brown will cover two sailing and ski mountaineering expeditions to South Georgia and Antarctica in the southern spring and summer of 2017-18.
In addition to the amazing wildlife, spectacular scenery, exploration and whaling history, Steve and the team on board his 60ft Aero rigged schooner Novara encounter storms, blizzards, and dense sea ice; recover from a potentially catastrophic grounding and the possibility of running out of jam! Using slides and video footage, Steve will try to give an impression of what sailing in these magical cruising grounds is really like.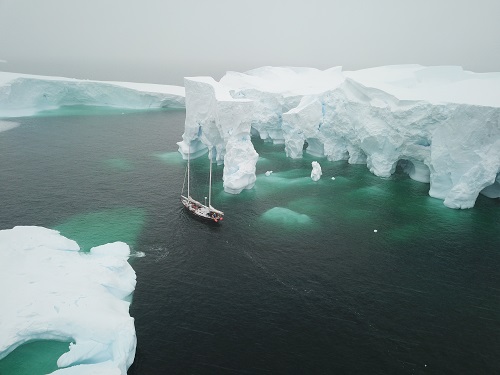 Date: Wednesday 20 March. Lectures and talks start promptly at 1900 hrs.
Place: CA House
Booking: To book places on any lecture, and to indicate whether you'll be ordering food, click on [Book Events Online]. Please pay on the door as usual. Any problems with the booking system, call or email Jeremy on 020 7537 2828/reception@theca.org.uk. Tickets are: £4 for members and £7 for non-members. Season tickets are available at £20 for the seven lectures from 6 February to 20 March. Please note that the season ticket price excludes the Hanson Lecture which must be booked separately.