Welcome to the Mediterranean Section
The Mediterranean section is a community of cruising sailors with over 2,200 members. Most members sail in the Mediterranean, but quite a number are still in the planning stage of heading out there. We are a group of people who aim to support, help and encourage each other; we do this by keeping in contact electronically and meeting up both in the UK and the Mediterranean. We also hold very good parties!!
The Mediterranean Area
The area extends across the Mediterranean from Gibraltar to the Levant and includes the Black Sea.
Where We Meet
In the UK Section meetings and talks are held in CA House twice a year, in November and February. We hold a Mediterranean Seminar in March at CA House. There is a Mediterranean Section party in CA House in January and a Summer Party held somewhere in the UK in August.
The Section aims to hold a rally somewhere in the Mediterranean every couple of years and has organised winter 'land-based' rallies, typically in early April with past rallies being held in Istanbul, Tunisia, Cappadocia in central Turkey, famous for its 'fairy chimneys', Iceland (yes, we know that Iceland is not in the Med!!), Malta and Barcelona and Catalonia.
We also try to organise a Cruise-in-Company each year somewhere in the Mediterranean as well as numerous local 'get-togethers'. The local events are informal meets over dinner and a few drinks, often impromptu and organised via our very active forum, and have been very successful, occasionally with over 40 members attending.
Being part of our Section
The section communicates with its members electronically where possible and makes strenuous efforts to keep information up-to-date.
MedNet is an interactive email network on which you can post questions and share information. Topics covered are wide ranging from queries about gear, boat maintenance and repair professionals to friendly restaurants and best anchorages. One of the many outstanding features of this system is that members, who cannot or don't want to receive e-mail, can switch it off but all the messages they have missed can be viewed at a later date via the internet on the MedNet forum.
The section maintains its own Mediterranean-focused pages within the CA's website and section members are alerted when information is posted so that they can download when convenient.
There are also other sources of information; 1) Annual updates of the pilot books which cover the Mediterranean, 2) Lay-up information. 3) Regular newsletters.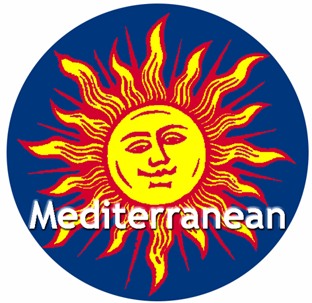 Forthcoming Events
There are no forthcoming events currently scheduled. From the autumn through to the spring, most Local Sections hold talks and social gatherings at local sailing clubs, pubs or other venues. Our Cruising Sections hold specialist seminars and talks at CA House during this period as well as some rallies and cruises in company during the summer sailing season.
Cruising Sections
Baltic
Biscay
Blue Water
Celtic
Channel
European Inland Waterways
Mediterranean
North Sea
Local / UK Sections
Antipodean
CA London
Essex
Kent
Solent
South West
Suffolk
Thames Valley
Wessex