The Cruising Association, in collaboration with Imray, is pleased to introduce the 2024 edition of the CA Cruising Almanac.
Drawing from the first-hand experience of CA members, an expert editorial team and the Regulatory & Technical Services group (RATS), combined with Imray's preeminent cartography and publishing, the Cruising Almanac remains an essential resource that no cruising sailor should be without.
The Cruising Almanac was first published in 1909 as Sailing Directions within the Cruising Association Handbook. Almost a century later, in 2002, it became The Cruising Almanac, published by Imray.
Designed in an easily readable A4 format, the Cruising Almanac is easy to use at sea even under challenging conditions. Passage notes, distinguished by their pale blue background, are integrated in the main text. Tidal stream plans: full tidal details for secondary ports are included in conjunction with the relevant text for each port, whilst tide tables for 47 standard ports are also presented in an accompanying booklet and also available separately.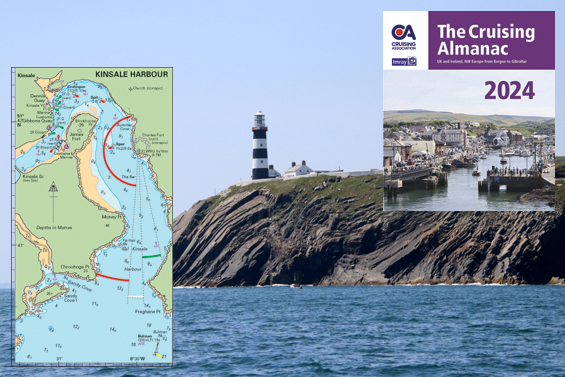 Authoritative Nautical Pilotage for NW Europe
Trusted as the go-to on board reference for sail and motor cruisers, the Cruising Almanac provides comprehensive information for cruising in NW Europe. The expertise of Imray is evident in the full colour, detailed chartlets which accompany most entries.
The Cruising Almanac covers the area from the Shetlands in the north around the coasts and islands of Great Britain and Ireland; on the continent, from Bergen into the approaches to the Baltic and right down to Gibraltar. It serves as a comprehensive guide for planning safe passage in and out of harbours, rivers and anchorages, as well as discovering new waters. Boasting hundreds of Imray chartlets and detailed information for almost every harbour and a multitude of anchorages, the Cruising Almanac is the perfect starting point for your cruising plans.
Up to Date
The Cruising Almanac is compiled by CA members from first-hand experience of each area. All sections, both text and plans, are carefully reviewed and updated annually to reflect the changing cruising environment.
Members' reports form an important contribution to the Cruising Almanac and maintain the CA's ethos of mutual help.
The 2024 edition includes some changes to the presentation of essential information to make it more readily accessible. The Netherlands section has been revised so that the format conforms to the other regions. A new chapter for Northwest Spain has been created to allow more extensive overall coverage of the Spanish and Portuguese Atlantic coasts.
For the upcoming year, the 2024 edition introduces new entries for the following locations:
Folkestone, England
Rossaveal, Ireland
Er Toul Bras Passage, France
Marans, Western France
Ferrol, Spain
Sesimbra, Portugal
Ria Guadalquivir and Seville, Spain
Hundreds of location plans within the 2024 edition have been updated, with new additions or major changes to ports including:
Dover, England
Rossaveal, Ireland
La Turballe, France
Le Baule/ Le Pouliguen, France
A Coruña, Spain
Ria de Corcubión, Spain
Additional anchorages covering Fisterra/Finisterre, Spain along with revised Port of Entry details for Spain and Gibraltar are also included.
Free Almanac Corrections by email
Updates to the Cruising Almanac are published monthly throughout the year to take into account Notices to Mariners, changes to buoyage and lights and other new developments.
These corrections are published on the CA website, along with a free subscription service for receiving monthly email updates.
Sign up to receive the corrections by email, by entering your email address in the box below.
(Your email address will be retained for a maximum of 12 months during which period it may be associated with your IP address, which is logged for security purposes.)
Opt-out any time. We keep your data safe. Read our privacy policy here.
Postage
The cost of postage for the Almanac and Tide tables, to UK addresses, is £10. If you are visiting CA House, a CA Section meeting or a boat show, you can save the postage cost by arranging to pick up a copy there. (International shipping costs will vary).