Sat 3rd / Sun 4th July to 13th July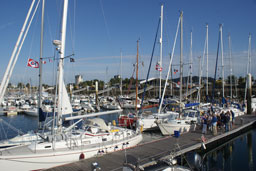 This is yet to be confirmed (COVID).
As in the past this rally intended for those perhaps doing their first channel crossing as well as those who just enjoy sailing and socialising in good company while visiting new ports. You can join and leave the programme wherever you wish but most tend to commit to the whole programme. We hope the rally may include some optional social events depending on the situation then. These might include pontoon drinks parties, dinners, barbecue etc. We also time it to include a French market or two.
The rally is planned to start the weekend of 3rdJuly meeting in Brixham, and 4th July in Lymington. The Lymington flotilla then sails to Cherbourg while the Brixham flotilla sails to Guernsey. The whole rally then meets up in Carteret before sailing on to the next destinations, with the intention of finishing in North Brittany (port to be confirmed) on 13th or 14th July.
If this is of interest to you please email with boat name, length and likely crew numbers, so we can get an early idea of numbers and give you priority on booking.
Note that the rally is only open to CA members (plus, of course, their crew).