Sat 3rd / Sun 4th July to Friday 9th July, plus potential follow-on rally to France ending Friday 16th July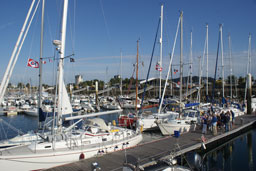 Announcing a programme for a rally/cruise-in-company on the English channel coast with the possibility of a cruise onwards to France. While we hold reservations for berths in France we are not yet held to these. Past Channel Section rallies have been very popular for participants and new participants; for those who have cruised and crossed the Channel before and those for which it is their first crossing.
Our programme will start the weekend of 3/4 July with both a Solent and a West-Country start.
The Solent flotilla will gather in Lymington on Sun 4th July, sail to Poole on Monday 5th July, and then on to Portland on Wed 7th July.
The West Country flotilla will gather in Brixham on Sat 3rd July, sail to Dartmouth/Kingswear on Mon 5th July, and then on to Portland on Wed 7th July.
In each port we have organised some social events such as pontoon drinks, dinners and other events; plus we will provide participants with other ideas.
France is not on the green list for travel, but the pandemic in France is on the decline, total death rate is lower than the UK and their vaccination rate is accelerating with ~27% of the population having received at least one dose. So it remains possible that by July we might be able to cruise on to France. Alternatively we might cross the Channel to the Channel Islands or continue an impromptu cruise along the UK coast if those options are not appropriate.
If a formal rally continues to France then we will cross the Channel to Cherbourg on Fri 9th July, and then on to Carteret via Dielette. The rally will conclude in Carteret on 16th July. So we are providing the chance to book for France but there is no commitment on your part at this stage. We will maintain discussion with those who do book in the period leading up to the rally as we continue to consider our options beyond Portland.
Attached is a detailed programme for your consideration. We do urge you to book early as it is likely to be popular and spaces are limited. Furthermore, booking must close by 12th June as a number of marinas are requiring direct payment from rally participants at least two weeks before arriving - we will notify you and them when payment is due.
To book please click here and click the button "Tickets".