The boating season is nearing its end for most in the Northern hemisphere, but come along to the first of the 2019-2020 Crewing Service meetings to find out what you can to look forward to for the next season.  An end of season celebratory fish and chip supper will also be available.
If you want to build your hours or just enjoy cruising to different places on different boats, or you are you a skipper looking for extra crew, then a CA Crewing Service meeting is the place to be. Not only can you meet crew and skippers alike, but you can also enjoy a drink and a meal while talking about your favourite hobby – boating.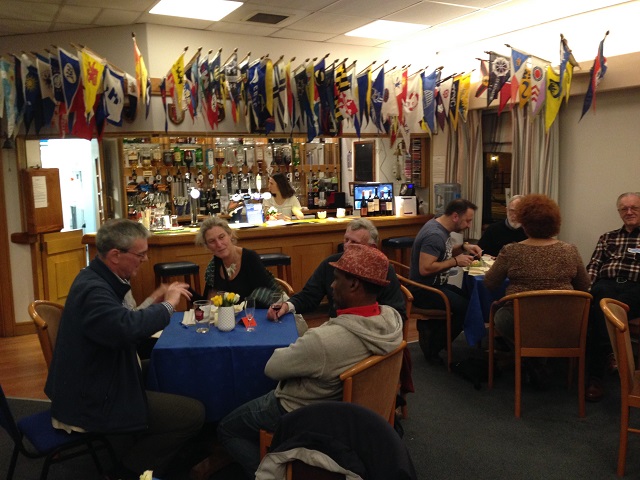 The meetings start with skippers being invited to talk about their last season and their plans for the next. Crew attending can then discuss any trips of interest and both skippers and crew have the opportunity to get to know each other a little.
If you'd like to talk about your experiences with the Crewing Service last season, either as a Skipper or Crew, we'd love you to share these at the meeting and, if you're a Twitter user, share a tweet and some photos on the Crewing Service Twitter feed @crewingservice.
Don't forget, if you've written a log from your 2019 season or have a website or blog covering your adventures, why not enter it into the annual CA Log Competition? We have a new category for the Crewing Service this year, the Hammett Trophy, which will be awarded for the best log by a crew or skipper who has used the CA Crewing Service for the voyage covered by the log.  The Log Competition opens on 1 September and news on how to enter will follow soon.
There is no need to book your place for any Crewing Service meeting; just turn up for this unique opportunity to plan next season's sailing opportunities. Meetings start at 19:00, and the bar will be open and food available from 18:30.
If you need more information, please email crewing@theca.org.uk.
Date: Thursday 3 October
Time: 19:00
Venue: CA House