To mark the 400th Anniversary of the Mayflower's voyage to America a state-of-the-art vessel is to attempt the same voyage but with no one on board. Departing from Plymouth UK and docking in Plymouth USA the boat will be crammed full of scientific test equipment and be principally powered by solar energy. A consortium of organisations is behind this ambitious project and Paddy Dowsett of MSub, the builders, will be explaining the technical, logistical and legal issues involved in this unique voyage.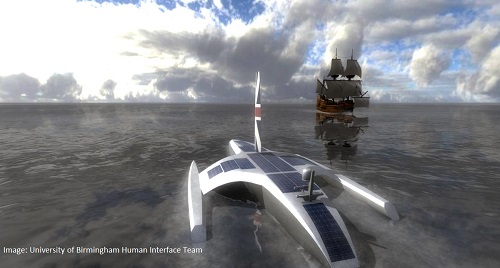 It promises to be a fascinating talk about one of the most ambitious maritime projects ever undertaken with potential long-term implications for leisure sailors.
The illustrated talk will be at the Royal Torbay Yacht Club and the club's restaurant is serving meals after the talk.
Date: Tuesday 7 January 2020
Time: Registration 18:30, talk starts at 19:00, optional meal 20:15
Venue: Royal Torbay Yacht Club
Booking: [Book online]
For those wanting a meal after the talk the club's restaurant is serving its Bistro Menu (fresh fish, local steaks, veg option). A table should be booked directly with the club on 01803 292006 or online HERE.