Over the Easter weekend, CA members and staff joined hundreds of well-wishers in Falmouth, Cornwall, as well as many of Britain's leading sailors, in paying tribute to Sir Robin on the 50th anniversary of the date he made history. At 15.25 on 22nd April 1969, he entered the record books as the first person to sail solo, non-stop, around the world.
An informal lunchtime reception was hosted by the CA and kindly sponsored by MS Amlin for CA members and members of the Little Ship Club at the Chain Locker on Easter Sunday.
This is the pub that Sir Robin stayed in 50 years ago when he won the Golden Globe. St Mawes Sailing Club, in conjunction with the CA, Little Ship Club and Clipper Ventures, then welcomed flotilla crews and guests to a lively evening party attended by Sir Robin.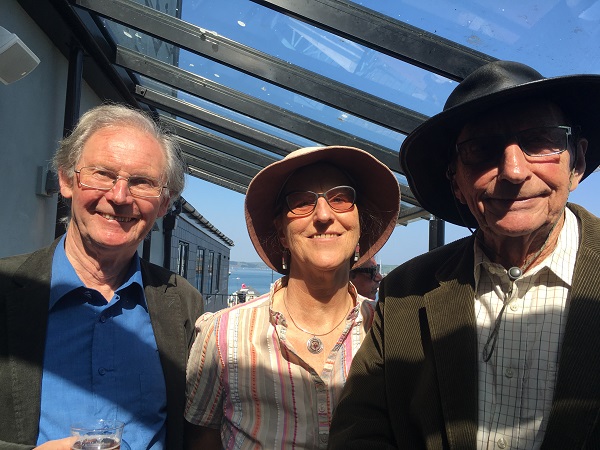 We were delighted to be joined by eminent yacht designers, Med Section members and former Hanson Lecturers James Wharram and Hanneke Boon, pictured here with Julian Dussek at the Chain Locker.
Image: John Hadley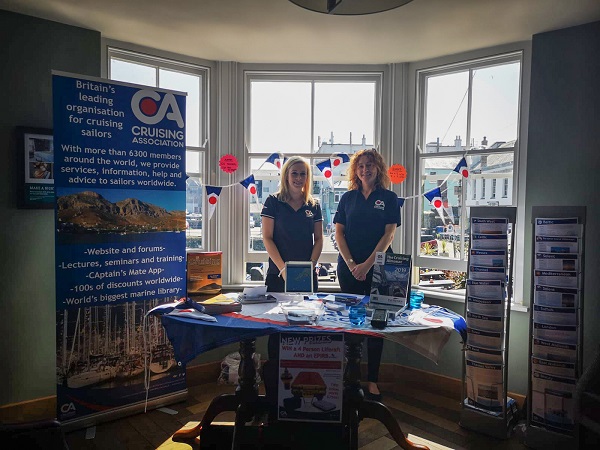 Lucy & Sian promoting the CA, even in the pub!
On Easter Monday, a contingent from the CA joined the audience at the National Maritime Museum Cornwall in Falmouth for a unique opportunity to hear Sir Robin giving first-hand accounts of his epic voyage to one of the world's most accomplished offshore sailors, Mike Golding OBE. The CA followed this up with more lunchtime hospitality for CA members and Little Ship Club members at the Chain Locker.
The afternoon was awash with emotion and memories as a fabulous flotilla of yachts, including a warship and Lively Lady (Sir Alec Rose's boat), joined Sir Robin and Suhaili as they re-enacted the moment they crossed that famous finish line and Sir Robin's life was never quite the same again!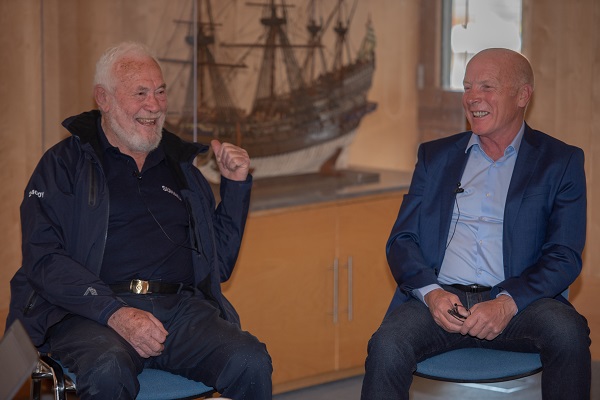 Sir Robin and Mike Golding enjoying a Q&A at the NMMC.
Image: Clipper Race/Shaun Roster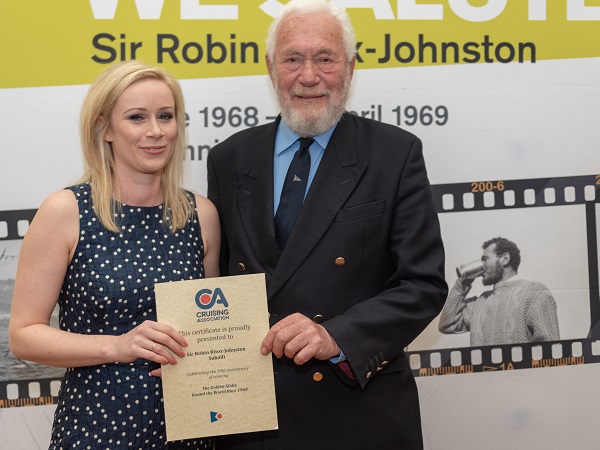 Lucy Gray presented Sir Robin with a commemorative certificate and an engraved crystal glass on behalf of the CA.
Image: Clipper Race/Shaun Roster
To round off an exceptional anniversary weekend, the Royal Cornwall YC hosted an evening reception and dinner for their guest of honour and around 200 guests.