Important update 12/03/20: demise of CG66 is brought forward to end of March 2020
The Cruising Association's Regulatory and Technical Service group (RATS) has today been advised by the Marine and Coastguard Agency (MCA) that the scrapping of the CG66 Safety Identification Scheme - the name given to the MCA's free and voluntary scheme for registering identification and other details of pleasure craft and vessels - has been brought forward from the end of July to the end of March.
The MCA statement on the retirement of the CG66 system is as follows:
"HM Coastguard recommends that all recreational boat users download the RYA SafeTrx app. A web-based version of RYA SafeTrx is also available on the RYA's website. HM Coastguard replaced its old safety identification scheme, CG66 in July 2018 and recommended that all CG66 users registered with RYA SafeTrx. From the end of March 2020 the CG66 data will no longer be accessible to HM Coastguard due to other MCA systems being updated and the CG66 data being out of date. From that point forward Coastguard coordinators will use RYA SafeTrx data only to give them additional information to assist with search and rescue response."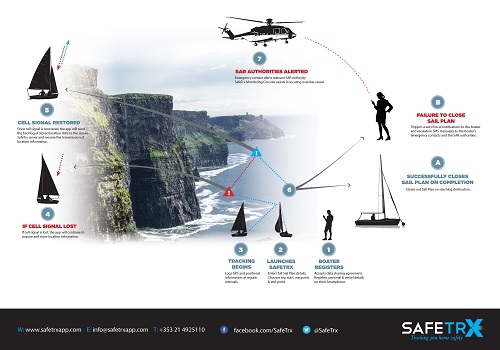 RYA SafeTrx aims to provide a similar SAR database to the CG66 scheme with the added advantage of additional methods of adding data and of communication. It is not necessary to be a member of the RYA to use it. Details of vessels, their communications and safety equipment and of emergency contacts are entered in one of two ways.
The first is by using the RYA SafeTrx website which is at: https://safetrx.rya.org.uk. It is necessary to register in order to enter data. The second way to enter data is by using the RYA SafeTrx App. This is available on Apple iPhones and iPads with iOS 8.0 or later and on Android phones with Android OS 4.2 and above. It is not available on Windows phones or Android tablets.
RATS advises members that it is worth registering details of your vessel with RYA SafeTrx even if you plan to sail exclusively outside UK waters. This is because the Maritime and Coastguard Agency (MCA) will assist local Search and Rescue (SAR) authorities with the details you have registered as appropriate. If an EPIRB or PLB is triggered, the MCA would be alerted in the UK to the beacon going off anywhere in the world and would be looking to see what value it could add to the local SAR authority.
See further detail in the complete article, Search & Rescue – SafeTrx, CG66 and all that, which appeared in the September 2019 issue of the CA's in-house magazine, Cruising.
4 February 2020, updated 9 March 2020, updated 12 March 2020
---
Disclaimer
This news item has been written by the Cruising Association and has been prepared voluntarily by members and others and they and it have tried to ensure that the contents are accurate. However, the Cruising Association, its employees, contributors and relevant members shall not be liable for any loss, damage or inconvenience of any kind howsoever arising in connection with the use of, or the inability to use, this material, save to the extent required by applicable law.