Med Section All-Day Seminar
Sunday 10th March 2013
 10:00 until 16:30
Whether you are just preparing to set off for the Med or whether you wish to explore new cruising areas there, the Med Section All-Day Seminar is the place to be on March 10th. Invariably the event is a sell-out, with both new and experienced members attending. The Seminar is a mix of presentations in the morning covering various aspects of Med cruising and a less formal afternoon session where you can wander round the various tables and seek advice from experts on different cruise areas, equipment, regulations etc.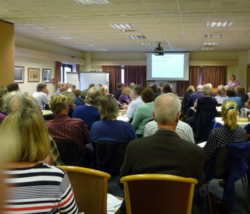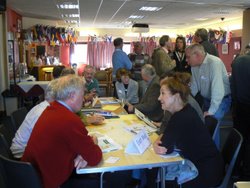 £23 for CA Members / £43 for non-members
Full details and booking form attached below.
 Programme
 09:30-10:00     Registration / Tea and Coffee
 10:00-10:10     Welcome and Introductions
 10:10-10.50     Four summers getting to and in the Mediterranean
 Mike and Sheila Dixon will talk about their first few years in the Med, where they went, what they learnt and some do's and don'ts.
10:50-11:30     Preparing your boat for a Mediterranean winter
Vyv Cox will explain the best way to winterise your boat. Although Mediterranean winters can be mild, they can also be cold. Some members were caught out last year when the weather in the Mediterranean was much colder than usual.
 11:30-11-50     Coffee Break
 11.50-12-30     Sailing in the Black Sea
For those established Mediterranean sailors looking for a new sailing area. Chris Smith will talk about his experiences of the Black Sea, the delights of the Sea of Marmara and his journey from Odessa to Georgia.
 12:30- 13.10    Meets and Rallies
After recent very successful Crete and Peloponnese rallies, and the fact that this year's Dodecanese Rally was 'booked up' within 48 hours, we need more volunteers to organise these events. Jim Baerselman will talk about his experiences of organising the Peloponnese rally and suggest ways of organising small informal 'cruises in company'.
13.15-14.15      LUNCH
 Afternoon Session – Concurrent sessions in Council and Assembly Rooms from 14.30-15.30
 14.30-15.30        Cruising Information Tables  (Assembly Room)
Western Mediterranean
Eastern Mediterranean 
Adriatic
'Morning Presenters'
Our usual cruise information tables plus an opportunity to ask the 'morning presenters' more questions
 14.30- 15.30       MyCA and CAptains Mate  (Council Room)
                            Need any help using MyCA or our app, 'CAptains Mate'?   We can help you!
 15.30-16.00       Updates to Regulations  (Assembly Room)
                            Jim Baerselman will provide an update to the regulations that relate to the Mediterranean sailing.
16.00-16.30       Results of photography competition, any questions, AOB  & farewell
 Tea/Coffee available throughout the afternoon