17/18 August 2022 in Plymouth
Following the successful mini-rally held in Plymouth last year we are holding a "meet-up" at this years event.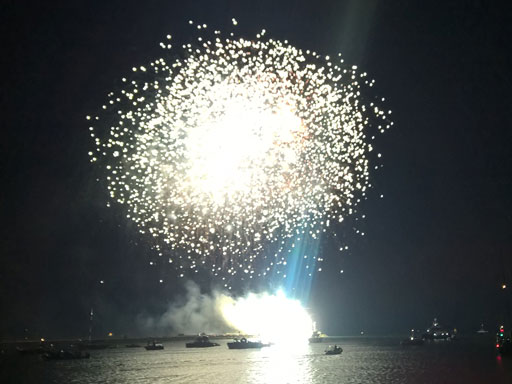 One of the unforeseen consequences of Covid is the increase in 'staycations' which in turn has put pressure on marina berths in the south west – especially in the school holiday period. Despite our best efforts we have not been able to secure sufficient berths in any of the five main Plymouth marinas to allow a traditional rally. However, the Fireworks remain a huge attraction with six of the best companies in the UK competing over two nights to hold the crown of 'British Fireworks Champion'.  The wave wall at Queen Anne's Battery provides the ideal location for viewing the firework displays which are set off from the Mountbatten Pier opposite.
If you are planning to be cruising in the south West in August we would like to arrange a Channel section meet-up.  This has been tried by various sections in various ways, and Paul and Liz Harewood, whose home berth is QAB, have agreed to host a "meet" which will revolve around watching the Fireworks scheduled to start at 21.30 on both nights, but could include other social events, depending on the numbers involved.
The Fireworks are free, but you will be responsible for booking your own marina berth, or for anchoring off at Cawsands or Jennycliff, making your way to QAB by road, dinghy or other method depending where you find a berth/anchorage.  If choosing the latter, Paul and Liz Harewood will try and ensure there is dinghy parking available and will provide secure storage for life-jackets etc.
This is open to members only. You will need to be logged in to see the details below.
We can gather on the QAB pontoon by their yacht Minalto for drinks (bring your own) from 8pm before watching the fireworks from the wave wall.
Please could you let Paul and Liz know if you might like to meet up by emailing your mobile number to . Nearer the time a WhatsApp group will be set up so that arrangements can be communicated to attending members.