CA Site Ring
You selected next in the CA sitering. A preview and link to that site are shown below. Alternatively, click here to go to the site ring directory.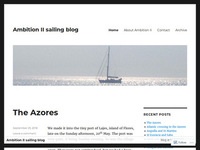 Ambition II sailing blog
Blog by Richard Bessey and Justine Selman on their 2017/18 Atlantic cruise, covering Spain, Portugal, Madeira, Canaries, Cape Verde, Caribbean (Leeward and Windward), and Azores.