CA Site Ring
You selected next in the CA sitering. A preview and link to that site are shown below. Alternatively, click here to go to the site ring directory.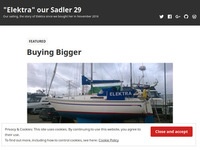 sailingelektra.com
Elektra is our 1984 Sadler 29 which we (Bruce & Vicki) bought in November 2016, she was in good condition as I didn't want a project but we are updating her ready for when I can retire (a few years yet). Until then just weekends and week long holidays.
Our cruising ground is the south coast of Devon & Cornwall, when time and weather allows also the Isles of Scilly.
We like finding an anchorage away from others, so if do to you will find plenty for our sailing area in my blog.