CA Site Ring
You selected previous in the CA sitering. A preview and link to that site are shown below. Alternatively, click here to go to the site ring directory.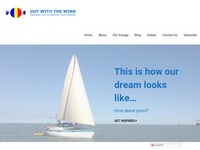 Ana and Sorin are 'outwiththewind' around the world aboard SV Mehalah, an Oyster Mariner 35
Welcome to www.outwiththewind.com. We joined forces to realise our dream of sailing around the world. Through our sailing blog we share our sailing around the world experience in order to inspire others to live their own dreams. We sailed away from London in May 2018 and we currently (June 2020) are in NZ. Once the Pacific borders open (closed due to Covid) we will resume our circumnavigation. Meanwhile we fulfill our mission of 'inspiring, informing and inspiriting' via various insightful cruising conversations, like 'Is sailing scary?' shared via our YouTube channel https://www.youtube.com/channel/UCTU9ynXuaIQ-6fcycB_PRRQ, and not only. We hope you join us in our sailing adventure and get inspired!