CA Site Ring
You selected random in the CA sitering. A preview and link to that site are shown below. Alternatively, click here to go to the site ring directory.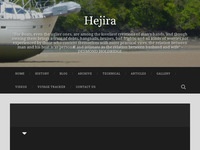 Nick Mines web site: Hejira Southerly 135 sailing history, blogs, technical info and articles
Nick Mines' Hejira web site is an attempt to consolidate previous hosting of location, track, images and the blog history (including the award winning accounts of the Atlantic crossing in November 2015 and BVI to Bermuda in 2016) into a central, easily accessed forum for family, friends and others interested in the adventures of 'Hejira' and her crew.
Please feel free to make contact to offer any comments or suggestions which might make our humble efforts more accessible, helpful or interesting.