CA Site Ring
You selected random in the CA sitering. A preview and link to that site are shown below. Alternatively, click here to go to the site ring directory.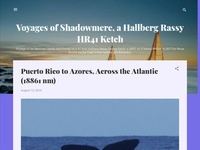 S/V Shadowmere
Voyages of Shadowmere - a 1979 Hallberg Rassy ketch (HR41).
June 2017 left Belfast, Northern Ireland bound for Nova Scotia - via the Cape Verde Islands and Barbados.