CA Site Ring
You selected random in the CA sitering. A preview and link to that site are shown below. Alternatively, click here to go to the site ring directory.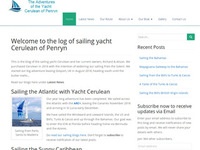 Cerulean of Penryn
Follow Richard and Alison as they take a year off work to sail across the Atlantic and back again in their SeaStream 43 blue water cruiser, Cerulean of Penryn.
We purchased Cerulean in 2016 from it's original owner TV presenter Peter Snow and spent the next two years refitting in preparation for joining the ARC Atlantic rally in 2018. Throughout our odyssey we post regular blogs on our website under 'Latest News' where you can share our experiences.
Our journey has taken us across the Atlantic to St Lucia, down to Tobago Cays, spending a wonderful Christmas in Bequia. We sailed northwards through the Windward and Leeward Islands, up to the US and British Virgin Islands. Many people then head back across to Bermuda but we carried on to Turks & Caicos and into the Bahamas before reaching our goal of entering the ICW at Florida.
After quick detour to visit the Everglades and Kennedy Space Station (by car) we headed out double handed for the long and cold northern crossing to Bermuda and the Azores
Do read our blogs to share our adventure and if you have any questions please contact us at crew@yachtcerulean.com.