CA Site Ring
You selected next in the CA sitering. A preview and link to that site are shown below. Alternatively, click here to go to the site ring directory.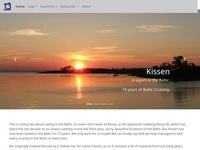 Kissen - The Baltic Cruise
This site is a guide to sailing in the Baltic. It covers the travels of Kissen, a Hallberg-Rassy 36, which has spent the last 5 years or so slowly crawling round the flesh-pots, sorry, beautiful locations of the Baltic Sea. Kissen has now been based in the Baltic for 8 years. We only went for a couple! It was only last year (2010) that we can finally say that we have managed to visit every country in the Baltic at least once.