Pre-orders for the 2021 Almanac can be placed (and will be dispatched from 1 September) at the discounted price of £21.50 (members) or £31.50 (non-members) with free P&P (UK only) until 20 September 2020.
Authoritative Pilotage for NW Europe
The authority and reputation of the Cruising Almanac grows each year and it's no wonder. The co-operation of the talents of cruising people, combined with Imray's publishing skills, is unbeatable and make it the reference for serious cruising in NW Europe.
It covers the area from the Shetlands in the north around the coasts and islands of Great Britain and Ireland; on the continent, from Bergen into the approaches to the Baltic and right down to Gibraltar. Its main aim is to help us to make enjoyable passages and to get us safely in and out of harbours, rivers and anchorages. The expertise of Imray is evident in the full colour, detailed chartlets which accompany most entries.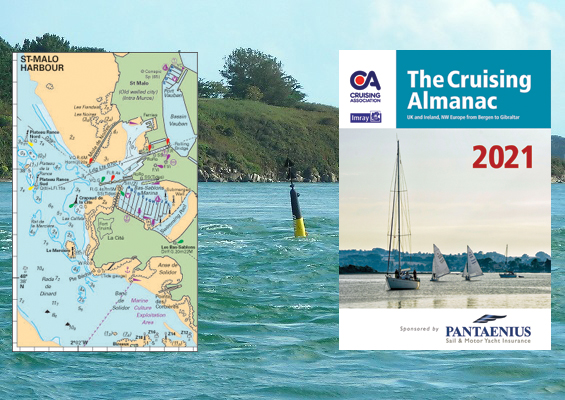 Up to Date
It is compiled by CA members from first-hand experience of each area. All sections, both text and plans, have been checked and revised throughout to reflect the changing cruising scene. Members' reports form an important contribution to the Almanac and maintain the CA's ethos of mutual help. The General Information chapter has been further revised, and large sections of the Netherlands have been rewritten to include the recent extensive changes to the TSS off the approaches to the Maas. We have noted the increase of pontoon berths, particularly in Scotland and Ireland. Updating of the Almanac continues throughout the year and corrections are published monthly. They can be freely downloaded from the CA website Almanac corrections page.
Free Almanac Corrections by email
You can also sign up to receive the Almanac corrections by email, simply enter your email address in the box below and complete the reCAPTCHA.
(Your email address will be retained for a maximum of 12 months during which period it may be associated with your IP address, which is logged for security purposes.)
Opt-out any time. We keep your data safe. Read our privacy policy here.
The Practical Almanac
Its A4 format and avoidance of unhelpful clutter make it easy to read at sea even in difficult conditions.
Passage notes, easily identified by their pale blue background colour, are incorporated in the main text.
Tide tables for 47 standard ports are included – published in a separate booklet. The main Almanac contains tidal stream plans: full tidal details for secondary ports are included with the text for the relevant port.
Postage
Until 20 September 2020, P&P (UK only) will be free (reverting thereafter to the normal £10). International shipping costs will vary.
£31.50