The Cruising Association will host a packed line-up of talks on the Sika Marine Stage in the RYA Pavilion at this year's Scotland's Boat Show taking place at Kip Marina in Inverkip, near Greenock from Oct 12-14.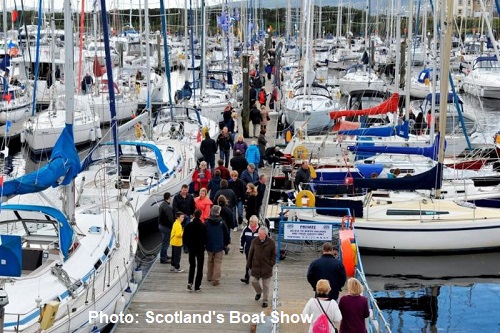 The schedule of talks is below. The Sunday focus of talks is sponsored by Imray who will be available all weekend to answer questions and take orders for books and charts, offering a 20% discount plus free UK carriage.
Booking: Book online here (booking for the morning/lunchtime session on Sunday only.  Booking is not necessary for other sessions).
| Slot | Topic | Speaker |
| --- | --- | --- |
| Friday |   |   |
| 12:00 - 12:30 | Shorthanded Cruising Techniques | Stuart Macdonald |
| 12:45 - 13:15 | Responsible Wildlife Watching and Getting Involved | Hebridean Whale and Dolphin Trust |
| 13:30 - 14:00 | General Ecology/Fresh Water and Victron Products and Their Benefits | ASAP supplies |
| 14:15 - 14:45 | The importance of surface preparation: cleaning and priming | Sika Marine |
| 15:00 - 15:30 | Marine Mammal Surveys in the Clyde | Clyde Porpoise |
| 15:45 - 16:15 | Fitting Solar Power to your boat | DanVolt |
| 16:30 - 17:00 | Looking After Your Ropes | Marlow Ropes |
| Saturday |   |   |
| 10:30 - 11:00 | Preventing the diesel bug | DanVolt |
| 11:15 - 11:45 | Tip + Tricks and General Use of Sika Marine Products | Sika Marine |
| 12:00 - 12:30 | The importance of caring for your lifejacket | Ocean Safety |
| 12:45 - 13:15 | Representing the Boating Community in Scotland | RYA Scotland |
| 13:30 - 14:00 | A Week Onboard Alba Venturer – working with young people at sea | Ocean Youth Trust |
| 14:15 - 14:45 | Cruising in Scandinavia | Paul Common |
| 15:00 - 15:30 | Marine Wildlife Watching Code | Clyde Porpoise |
| 15:45 - 16:15 | Responsible Wildlife Watching and Getting Involved | Hebridean Whale and Dolphin Trust |
| Sunday |   |   |
| 11:15 - 11:45 | Sailing Around Britain | Ken Marsden from The Cruising Association |
| 12:00 - 12:30 | Cruising Inland Waterways of France | Julian Dussek from The Cruising Association |
| 12:45 - 13:15 | Cruising the Biscay Coast of France | Judith Grimwade from The Cruising Association |
| 13:30 - 14:00 | CA Lunch | Cruising Association |
| 14:15 - 14:45 | New products and innovations | Sika Marine |
| 15:00 - 15:30 | Representing the Boating Community in Scotland | RYA Scotland |