The fourth annual Open Weekend at Shotley Point Yacht Club, Ipswich, takes place May 25-26th and this year is being held in conjunction with the "Push the Boat Out" campaign to encourage visitors to try big boat sailing.
Organisers are making every effort to make the weekend family-friendly and a fun day out for everyone, as well as appealing to the out and out boating enthusiast.
The CA is delighted to be exhibiting and, thanks to our Suffolk Section Secretaries Colin and Elspeth Iskander, they will be on site to sign up new members and sell CA shop items. They will also be welcoming CA members who can grab this chance to enter our big annual prize draw to win an Ocean Safety 4-person Liferaft and EPIRB.
The weekend is being held at Shotley Marina at the end of the Shotley Peninsula, overlooking the amazing Harwich Harbour at the confluence of the Rivers Orwell and Stour. Some of the most beautiful cruising waters in the country can be seen from here.
There will be a variety of trade stands from marine suppliers, a Craft Marquee for those who are not sailing minded and there are also stands manned by RNLI Safety Officers, Coast Watch and the Coastguard. There's free parking on the marina site plus bar, restaurant and toilet facilities.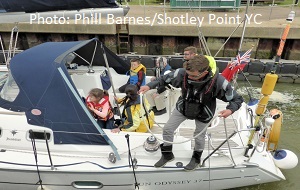 Plans are afoot to stage a Boat Jumble, a live display of safety equipment and liferafts and the show stoppers, subject to call outs, will be the RNLI Harwich all-weather Severn Class Lifeboat, open for visitors to inspect and the new large RIB inshore lifeboat that will be visiting. We hope many of our members will pop by to say hello and we look forward to welcoming you at the CA stand.