Initially launched in 1909 as 'Sailing Directions', in 2022 the contemporary Cruising Almanac as we know it will mark its twenty year anniversary in partnership with Imray.
The twenty partnership between the Cruising Association and Imray combines the authoritative knowledge of active cruising members with Imray's publishing expertise, making it the definitive cruising guide for north-west Europe. In celebration of the twentieth anniversary, this 2022 edition is introduced by Sir Robin Knox-Johnston, CBE, Patron of the Cruising Association.
Respected as the go-to on board reference for cruising yacht and motor boats, the Cruising Almanac features the Shetlands in the north around the coasts and islands of Great Britain and Ireland, and spans the continent from Bergen into the approaches to the Baltic and down to Gibraltar.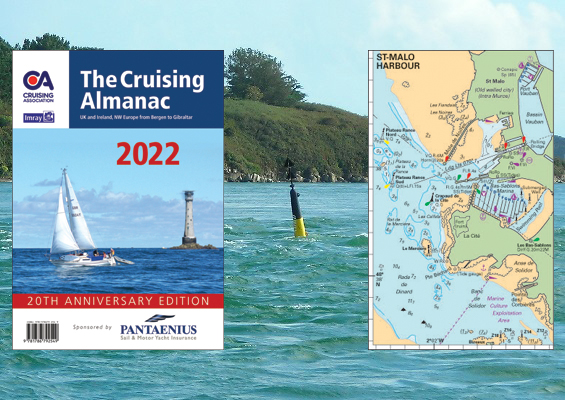 "All information in the Cruising Almanac is based on first-hand experience and official data, and all content is checked and updated annually," commented Lucy Gray, CA General Manager. "Packed with over 750 port entries alongside passage notes, the Cruising Almanac is your must have guide for passage planning and whilst at sea. We are immensely grateful to our membership community of yacht and motor cruisers who provide that critical on the pulse first-hand information that ensures the Almanac is always up to date and relevant."
Published by Imray in a handy to read A4 format, with passage notes, general information, tidal information, detailed chartlets and more, the Cruising Almanac is the perfect companion to ensure enjoyable and safe passages in and out of harbours, rivers and anchorages.
The Cruising Almanac also includes a handy removable tide table booklet for 47 standard ports, whilst the main Almanac contains tidal stream diagrams and full tidal details for secondary ports are included with the text for the relevant port.
Throughout the year, monthly updates are made to the Cruising Almanac to take into account Notices to Mariners, changes to buoyage and lights and other new developments. You can sign-up to receive updates direct into your inbox or download the online updates on our Almanac Corrections page.
The 2022 Cruising Almanac is available at the Southampton Boat Show from the CA stand J419 in Ocean Hall, at £25 for members and £35 for non-members. Picking up your copy at the Boat Show also saves £10 on the normal postage cost.
You can also purchase the 2022 Cruising Almanac from the CA online shop.
7 September 2021