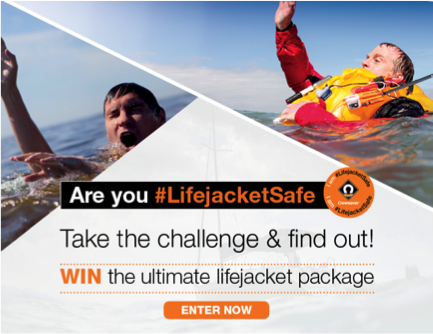 As part of its #LifejacketSafe campaign, Crewsaver has announced the launch of the #LifejacketSafe challenge, a quiz style challenge with thought-provoking questions highlighting lifejacket dos and don'ts. Not only could the advice learnt in the challenge save your life but also, by taking the challenge, you will be automatically entered into the prize draw to win the ultimate lifejacket package!
The #LifejacketSafe campaign aims to increase safety awareness by highlighting the importance of not only wearing a personal flotation device, but also making sure it is worn correctly and is well maintained. So, if the worst should happen, you are well equipped and can rest assured that your safety equipment is not going to let you down.
#LifejacketSafe challenge prize – Worth over £440 (483 Euros) *
ErgoFit 290N EX lifejacket
Lifejacket servicing voucher
Rearming kit
ErgoFit safety knife
Safety line
So, do you think you know all there is to know about lifejackets? Do you know what a Newton is (not Isaac Newton, but he does play an important part!) and whether all lifejackets come with a light as standard? Prove you have what it takes to be #LifejacketSafe and enter the #LifejacketSafe challenge!
Accept the challenge here https://www.surveymonkey.co.uk/r/LifejacketSafe
Top advice for being #LifejacketSafe
Wear a lifejacket and wear it correctly
Get your lifejacket serviced annually
Wear the right lifejacket for your activity
Follow care and maintenance guidelines
*T&C's apply. E&OE