In celebration of the 50th Anniversary of the Sunday Times Golden Globe Race 2018 and the CA's involvement with and support for its Patron Sir Robin Knox-Johnston, we are giving away two copies of Peter Nichols' sailing classic A Voyage for Madmen, a book, published by Profile Books, detailing the extraordinary story behind the inaugural Golden Globe round-the-world sailing race of 1968, a Race which was won by Sir Robin, the first man to sail solo non-stop around the world and arrive back in Falmouth 10 months later on 22nd April 1969.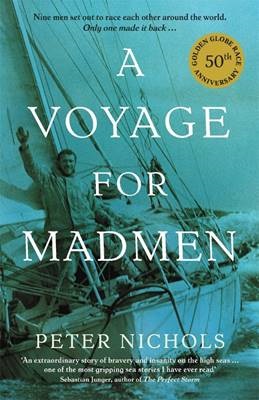 A Voyage for Madmen is a gripping sea-faring account of how nine men set out to sail around the world alone on a non-stop mission. It was a race before the time of today's high-tech sails: no one had ever done it, and no one knew if it could be done. It's a dramatic tale of human endurance, told with page-turning flair.
To be in with a chance simply LIKE & then SHARE our Facebook page with a fellow cruising enthusiast and answer the following question in the comments below the post on our Facebook page. You can enter between 23.59 BST on 9th July until 23.59 BST on 9th August 2018. The full Terms of Entry can be found below.
Question:
What is the name of the yacht skippered by Sir Robin Knox-Johnston in his epic round the world race in 1967-68?
Terms of Entry
CRUISING ASSOCIATION: 'WIN A COPY OF A VOYAGE FOR MADMEN'. FULL TERMS AND CONDITIONS
This Promotion is only open to residents of the United Kingdom who are aged 18 or over. So that we are completely fair, anyone professionally connected to the Cruising Association is not allowed to enter.
You don't have to buy anything to take part in this Promotion but you do need a valid Facebook and/or Twitter account and access to the internet.
Promotion Period: You can enter between 23.59 BST on 9th July 2018 until 23.59 BST on 9th August 2018.
To Enter: Within the Promotion Period, you must like the Facebook page @cruisingassociation and tag a friend on Facebook in the competition post.
You may only enter once, during the Promotion Period. A maximum of one prize can be won by one person. Anyone found to use multiple accounts to enter will be ineligible.
The Prize: Two winners on Facebook will receive a copy of A Voyage for Madmen.
Winner Selection: So that our winners are selected fairly from all the valid entries we receive, the Facebook draw will be carried out randomly and will take place within 4 working days of the end of the Promotion Period.
Contacting the Winner: We'll contact the winner via Facebook within 5 working days of the end of the draw to confirm the winner's address for delivery. If you are a winner, you must respond to us within 7 days otherwise we reserve the right to award the Prize to a reserve winner.
If you are a winner, we'll try and send you the prize as soon as we can and within no more than 28 days from acceptance of the prize. Prizes can only be sent to the country of residence stated in clause 1.
Moderation: We can't accept any entries which we think:

Contain any content that is likely to be considered offensive by us or could reflect negatively the name, reputation, or goodwill of the Cruising Association or its members;
Include trademarks, logos, or copyrighted material not owned by you or used without the right holder's prior written permission (including famous names, company names, etc.);
Defames, misrepresents, or insult other people or companies, including, but not limited to the Cruising Association (and/or its partners); or 
Promotes any political agenda.

You cannot exchange this prize for something else or a cash or other alternative.
If, for reasons out of our control, a stated prize is no longer available, we'll offer you an alternative prize which we hope you'll still enjoy but which will definitely be of equal or greater value.
Data Privacy: CA member data will be held in accordance with our Privacy Policy and will only be used for the purposes of this Promotion unless we have your consent.
We believe in fair play. Bulk entries made from trade, consumer groups, syndicates or third parties will not be accepted and we will not accept cheating in any form including the use of macros or other automated means of entry, masking your identity by manipulating IP addresses, using identities other than your own and any other behaviour that falls outside the spirit of the Promotion. If you're found to be cheating, you will be excluded
This Promotion is in no way sponsored, endorsed or administered by, or associated with Instagram, Facebook or Twitter.
Unfortunately, if you suffer any loss or damage that arises out of or in connection with the Promotion or prize itself (whether in contract, tort (including (without limitation) negligence), statutory duty or otherwise) the Cruising Association will not be liable for this.
If this Promotion can't run properly because of fraud, tampering, technical errors or anything else that is beyond our control which affects the running, administration, security or fairness of this promotion, we reserve the right to disqualify any person involved. We will also have the right to cancel, modify or suspend the Promotion.
By entering you confirm that you have read and agree to these terms and conditions.
If someone or something tampers with this Promotion in some way whether by fraud, technical failures, system errors or other issues, including any such failure which is within the control of the Cruising Association or its agencies, the Cruising Association and its agencies will not be responsible for the promotion, prize or for the non-inclusion of entries. Proof of submission of entry is not proof of receipt of entry.
In the event of any dispute our decision is final.
The winners may be required to participate in any reasonable publicity arising from the Promotion.
If you are the winner of the Promotion, you agree that the Promoter may use your full name, and town or county of residence to announce the winner of this Promotion.