Crusader Sails is sponsoring our exclusive to members Big Winter Prize Draw which opens at 1200 hours on Thursday 16 September 2021.
Crusader Sails is offering one lucky member a Super Zero Sail worth over £2000. Known as the cruising man's code zero, the Super Zero sail is a direct descendant of the Volvo/Whitbread Round the World racers but with a heavy dose of cruising reality. The Super Zero can be easily furled and left hoisted for extended periods with the standard UV strip protecting against the ravages of the sun's rays. Sails are designed, cut and finished by the expert team at Crusader's loft in Poole, UK and the prize also includes a deck stowage bag.
"The Cruising Association is delighted to announce our Winter Big Prize Draw in partnership with Crusader Sails," said Lucy Gray, CA General Manager. "We are really proud of the relationships with our many marine partners, who provide outstanding services to our members and support the work of the Cruising Association. The Crusader Super Zero Sail really is an exciting prize to make the difference to your sail wardrobe."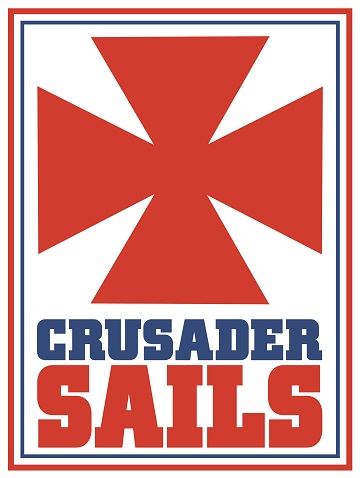 Crusader Sails has a more than 50 year reputation of excellence, manufacturing sails, boat and sail covers, furling and rigging systems and delivering to boat owners around the world.
"Crusader Sails has been a partner with the Cruising Association for many years and we are delighted that so many members around the world choose Crusader for their sails, boat and sail covers, furling and rigging," commented Paul Lees, Founder of Crusader Sails. "We pride ourselves on the quality of our products, our expertise and innovations, and ultimately our very happy customers."
Entries officially open from 1200 hours on Thursday 16 September 2021 and entering is super easy. For the chance to win, members can:
Visit us in Ocean Hall/Stand J419 at Southampton Boat Show (until 19 September 2021), or
Complete the online entry form (members only), or
Email office@theca.org.uk a photo of your boat flying the CA burgee, or
Enter at any CA event.
Members who successfully refer a new member will also be automatically entered into the prize draw.
There is plenty of time to enter until the 26 February 2022 closing date.
Year-round Crusader Sails supports CA members with a 20% discount off the price of new sails and 15% off sail repairs, furlers and reefing systems. Members can find the code to claim the discount on the members discounts page of the website.
About Crusader Sails
Crusader Sails has always pursued a policy of providing quality and innovative products at great prices, always employing the latest and most advanced design, cutting and sewing technology. Innovations include the simplest, most cost effective and easy to use Squeezer/Snuffer introduced in the 1970s; computer designed sails since 1976; Magic Furl that gives the most reliable furl of asymmetrics; Tack Maxx performance cruiser racer self-tacking jib; the utilisation of Hybrid sailcloth; Furl Maxx Plus in mast reefing sail that radically improves performance; Super Zero cruising man's code zero, adding a significant boost to performance and the ability to be furled and left in place without fear of UV degradation; and the establishing of Performance Hybrid sails.
Contact Crusader Sails
crusadersails.com
Email: info@crusadersails.com
Tel: +44 (0) 1202670580
16 September 2021