Buying a boat from the United States?
Watch out for extra duty, say RATS
Did you know that for the last few months, many US-made items – including boats – brought into the EU have been subject to an extra 25% import tariff?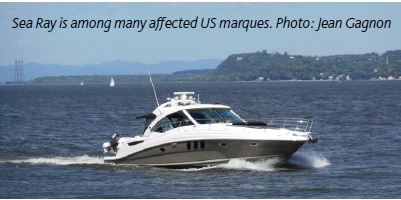 The EU retaliatory tariffs were introduced by the EU in the summer of 2018 in retaliation for the US tariffs on the import of EU steel and aluminium products. They apply to a wide range of products including cosmetics, clothes (Levis and other US jeans), vehicles (Harley Davidson motorbikes) and various home products.
The CA's Regulations & Technical Services Group (RATS) says that 25% tariffs apply to new and second-hand boats of US origin, even if they are first exported to a different, non-EU country, including:
Sea-going and non-sea-going sailboats and yachts, with or without auxiliary motor, for pleasure or sports;
Sea-going motor boats/motor yachts, for pleasure or sports;
Motor boats for pleasure or sports, rowing boats and canoes.
The tariffs are not applicable to inflatable boats at this stage but the EU has identified further duties applying to a wider list of products which will come into force in three years, potentially sooner. This wider list includes a 10% duty on inflatable boats.
The tariffs do not apply to US marine products outside the scope of the tariff list, such as marine electronic and electrical products, marine safety products or sailcloth.
However, some marine shoes and clothing could potentially be covered by the more general, non-marine aspects of the tariff list. For example, the list refers to the 25% tariff applying to "Sports footwear with outer soles and uppers of rubber or plastics". This could apply to marine shoes.
It may be possible to reduce the impact of the tariffs. For example, lower tariff rates apply to outboard engines (4.2% to 6.2% depending on power output). If a boat and outboard were being imported from the US the outboard could be invoiced separately so that it can be declared as a separate item at import, rather than the 25% tariff applying to the whole package.
It is not known if the tariff applies to boats sold by US companies but manufactured elsewhere, such as new Nordhavn motoryachts, built in China and imported directly into the EU without having any physical contact with the US.
Not surprisingly, European yacht dealers have already reported the cancellation of orders of US boats.