The UK Hydrographic Office (UKHO) has announced its intention to withdraw from global paper chart production by late 2026 to increase focus on its digital navigation products and services.
UKHO finally withdrew its Small Craft Folios in late 2021, while offering the option to use "print-on-demand" facilities. By 2026 it also plans to cease production of all paper charts including standard Admiralty nautical charts and thematic charts and print on demand will end. Other paper publications will continue.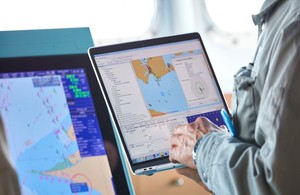 For leisure users, UKHO plans digital charts which, with the encouragement of the Maritime and Coastguard Agency (MCA), will drop the Not to be used for navigation disclaimer. These charts will be kept up to date over the internet in near real time. The proposal is supported by the MCA on the grounds of safety at sea.
Much detail remains to be disclosed. The CA's RATS (Regulations and Technical Services) group is cautiously supportive of UKHO's entry into the digital leisure market and, particularly, the dropping of the "not to be used" disclaimer. However, the cessation of UKHO paper charts has wide and far-reaching implications for many cruisers. Navigators may also prefer to have access to paper charts. Training issues need to be considered. The RYA has already indicated that it will continue to teach both traditional and electronic navigational techniques through its range of courses. For cruising sailors a number of factors will be critical to success: delivery, hardware compatibility, commercial availability, pricing and the sequencing and timing of changes. Through RATS, the CA will be involved in discussions with UKHO and the MCA and will report as matters progress.
Paper charts will, however, continue to be available from Imray*. Lucy Wilson, Imray's managing director, told the CA, "Imray have no plans to withdraw paper charts. Our focus is the leisure and small craft sector. There is still strong demand from leisure customers and we remain the only private chart publisher to be recognised by the MCA for our chart range. We have been expanding our range of chart packs in response to the UKHO's earlier decision to withdraw those. Our plan is to continue to develop our offering both paper and digital."
*CA Members can access discounts from Imray, of 10% off Admiralty Charts and 15% off Imray books. The discount can only be accessed by CA Members via the Marine Discount Partner page.
3 August 2022