How Much Can I Rely On My Chart?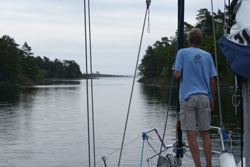 Depending on where you are sailing, your chart may appear to be accurate in every detail, or there might be a few things that look odd, or some things that are obviously wrong, or, in an extreme case you can't match the chart with reality at all (but that's unlikely in the English Channel!). How do you know how much you can rely on your chart? What clues should you look for? When should alarm bells ring? What should you do to minimise the risk of being led astray? As we look at these questions, we'll also review paper and digital charts and their production, consider sources of updating information, and speculate a little about the future.
Spoiler: "A good chart tells you what is known about an area, not what the area will be like when you get there."
Martin Wakefield retired from UKHO in 2014 after a long career working in many different areas including charting of Scottish waters, digital charting and quality control. Before then he spent a couple of years with a hydrographic survey company, mainly in the North Sea.
He is co-owner of Minalto, a Beneteau 34 based in Plymouth.
A web seminar on Tuesday 16th February 2021, starting at 7pm and lasting up to an hour.
This event is open to members, including Crewing Service members, only.  You will need to be logged in to see the link to register to join below.
Register now using the following link:
https://zoom.us/webinar/register/WN_s3THpp4fTyCsv4QGLsIYVQ