A full day of speakers and discussions which will cover all aspects of planning, going to, cruising around and staying in the Baltic. This event is a "must do" for those looking for a new cruise area, for those wishing to venture further into this lovely region, and for those just interested in learning about it. Version 3 of the programme for the day is below.
Sponsors: Imray, Laurie, Norie and Wilson.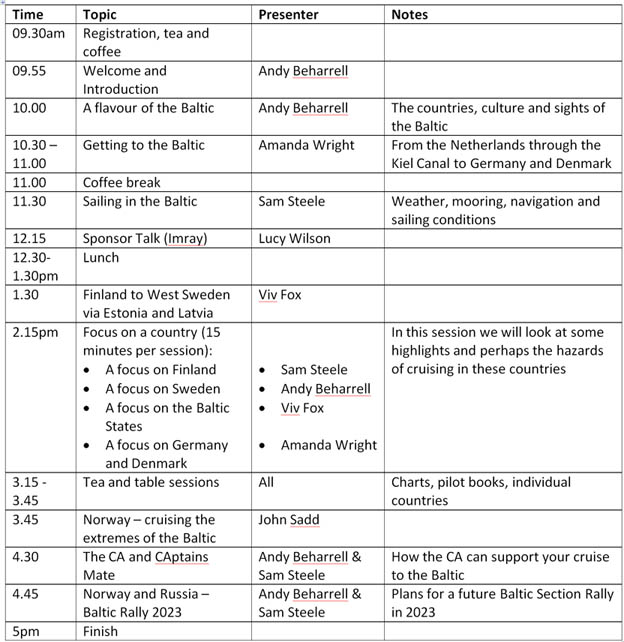 What: All day Seminar on the Baltic including lunch, refreshments and handouts.
When: Saturday 30th October 2021 - Doors open at 09:30 and close at 17:00.
Where: At the Royal Harwich Yacht Club, Woolverstone, Ipswich, IP9 1AT,
Directions to the Royal Harwich Yacht Club - A PDF download with a map.
Lat and Long: N52⁰ 0.34' E001⁰ 11.8' ; National Grid Reference: TM 1952 3896 ; What.Three.Words location: lion.jumpy.chuckling
Booking: Open now.
Click here to book on the RHYC website
N.B. Members of the CA and RHYC both qualify as "Members"
Chairman: Andy Beharrell
Event Organiser: Bram Van de Have
Contact: Simon and Georgette Harrison,
P.S. Covid: The Club will adhere to the Government rules and advice applicable at the time.
Speakers' Biographical Notes:
Andy Beharrell has cruised the Baltic for five years in his Starlight 39 –Charmary. He has cruised Denmark, Sweden and Finland over this time heading up the Swedish High Coast in 2018.
Sam Steele and Mags Campbell have sailed Carra, their Rustler 42 in the Baltic since 2015, exploring Sweden, Finland, Estonia and Latvia. Sam also knows Denmark having sailed there whilst serving in the Army. Having lived in Finland for 4 years, they have a great love of the Baltic. During 2020 and 2021 Sam has been part of the small team that redeveloped CAptains Mate and ran the migration of the data to the new app. Sam is the author of UK and Ireland Circumnavigator's Guide.
Viv Fox has won both the Love Cup and the Dolphin Cup in the CA Log Competition. Viv and Linda Fox set off from West Mersea in April 2015 on Tempus, a Nauticat 331, and ended their first season near Stockholm. From there, they sailed east to Finland and a bit of Russia. Subsequent seasons took them to Estonia, Latvia, Gotland and then back to the Swedish mainland. From there they took the Gota canal to the Swedish west coast and southern Norway.
Amanda Wright is an RHYC member. In 2019 she transited the Kiel Canal and into the Baltic on Infinity, an Oyster 406 deck saloon, exploring many unspoilt Danish Islands, the dramatic landscape of the West coast of Sweden and finally reaching the Öckerö Archipelago. Infinity wintered in Germany and is on her way home in 2021.
John Sadd - We have spent 16 summers between 2004 - 2019 either in the Baltic Sea/Gulf of Bothnia/Finland or exploring the Norwegian coast. We have twice followed the Norwegian coast from the Swedish border to about 70 degrees North (the border of Troms & Finnmark). These Norwegian journeys were each spread over 3 summers, laying up in Norway during the intervening winters.