CA Site Ring
You selected random in the CA sitering. A preview and link to that site are shown below. Alternatively, click here to go to the site ring directory.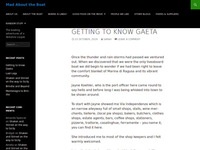 Mad About The Boat
We are Ian and Sarah. We are a fifty something couple from North Yorkshire. For the last few months we have been planning an adventure.
Secretly, we've been plotting our gap years for ages, inspired by what our daughters have done and thinking of all the places we still want to go and the things we still want to do.
In reality, it all started many moons ago when Ian and his good friend Jonathan were chatting over drinks. Probably more like thirty years ago ( I can't believe that we actually have a thirty years ago, but there you are!)
Two young hotel managers, both from the north of England, who met whilst working at The Chester Grosvenor Hotel, were plotting over a glass of Champagne. The chat developed into a discussion about the places they wanted to go and adventures they were determined to have. So between them they decided that eventually they wanted to sail a yacht into a spectacular tropical bay, crystal clear sea, white pepper beach, you get the idea, whilst standing on the bow playing a saxophone! At that point neither of them had ever sailed a boat or learnt to play the saxophone!
As a testament to the power of dreams, even without the accompanying lists, plans or spreadsheets, the two friends set about developing their careers and almost incidentally achieving, at least in part, some of the dream.