CA Site Ring
You selected random in the CA sitering. A preview and link to that site are shown below. Alternatively, click here to go to the site ring directory.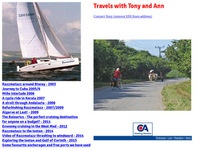 Travels with Tony and Ann
Describes mainly voyages, but also explorations by bike, undertaken by us since 2003.
During the summers, we have sailed slowly from Harwich down the French Atlantic coast, along the Spanish north, past Portugal to the Algarve. We have spent seasons in the Algarve, Balearics, Sardinia and Corsica. Our catamaran, Razzmatazz, is now based in Preveza.
In the winters, we have explored Cuba, Kerala and Andalucia by bike.
The site is not a blog. I used to add a complete account of each voyage or journey once or twice a year, but of late our voyages have not merited any write-up!