CA Site Ring
You selected random in the CA sitering. A preview and link to that site are shown below. Alternatively, click here to go to the site ring directory.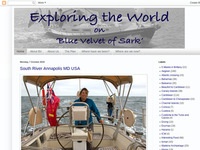 Exploring the World on Blue Velvet of Sark
This blog is our photographic and written record of our dream adventure to explore the world on our sailing yacht, Blue Velvet of Sark. We both left work early and set off from the UK in 2013, not really sure if our gamble would work. Would we be able to afford to live this dream lifestyle? Would reality live up to the dream expectations? Would we be constantly plagued by boat breakages ... the cruising is "yacht maintenance in exotic places" analogy? We don't know the answer to all of those questions yet but the blog tracks our progress and the fun we are having along the way finding out.