CA Site Ring
You selected random in the CA sitering. A preview and link to that site are shown below. Alternatively, click here to go to the site ring directory.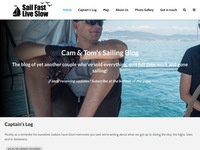 Cam & Tom's Sailing Blog
The blog of yet another couple who've sold everything, quit full time jobs and gone sailing. Mostly as a reminder for ourselves (sailors have short memories you see) we're writing a Captain's Log about what we got up to during the day; the highs, lows and in-betweens.
In 2018 we sailed Bon Bini (our Dufour 36 Classic) from Barcelona through the Balearics, Sardinia, Corsica, northern Italy, the Tuscan Islands and the Aeolian Islands before wintering in Marina di Ragusa in Sicily. This season (2019) we're sailing in Greece, planning on wintering in Marmaris.