CA Site Ring
You selected random in the CA sitering. A preview and link to that site are shown below. Alternatively, click here to go to the site ring directory.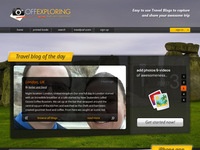 Rawatsea (Richard and Wendy at Sea)
This is an account of our sailing trip to the Med from the UK. We are on Leg 7 - already exceeding the original 5 year there-and-back plan. 2009 was Plymouth, UK to Portugal via France, Biscay and the Spanish Rias. 2010 it was to Sardinia via Gibraltar, Spain and the Balearics. Next came Sardinia to Corfu via Corsica, Italy, Sicily and Malta. For 2 years we've explored some of Greece, the Ionian, Peloponnese and the Sporades and last year was Turkey. We're back in Greece now to explore the as yet unvisited areas, from Rhodes to Northeast Aegean. The journal is not specifically a sailing "log" as it was originally intended for family & friends to keep tabs on us.