CA Site Ring
You selected random in the CA sitering. A preview and link to that site are shown below. Alternatively, click here to go to the site ring directory.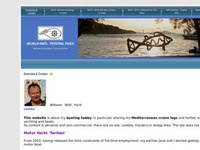 Motor Cruising Diaries, Logs Adriatic sea and more
Wilhelm Hartl - Personal Pages. Motor cruising on a Trader 535. Skipper's photo reports. Since 2011, in chronological order.
2011-2012: From Falmouth to Croatia on our own steam http://whartl.com/tarilian.html
2013-2018 Adriatic sea; logs Croatia, Montenegro; local and general experience, practical information and comments. http://whartl.com/adriatic.html