CA Site Ring
You selected next in the CA sitering. A preview and link to that site are shown below. Alternatively, click here to go to the site ring directory.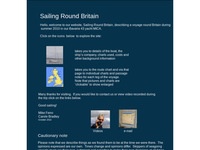 Sailing Round Britain
This is an account of a voyage round Britain completed over two years in the authors' Bavaria 43 sloop with an overwinter stop at Fosdyke near Boston. There were twenty five ports of call and each leg features an account of the passage with weather conditions and the navigational planning involved.