Update 13 January:
Tom Cunliffe launched the CA's new Lobster Pot Campaign video at the London Boat Show today.
You can watch the video here.
We hope the video will persuade yet more people to sign up to our petition.
---
Update 30 November:
Lobster pot update: download our poster
After the hiatus of the spring General Election, we were at last able to repost our petition on the marking of static fishing gear, and it went live during the Southampton Boat Show. The race is on to get 10,000 signatures before we have to close on 12 March 2018.
We have been mailing sailing clubs with details, offering them a specially designed poster, which you can download here. If you support our campaign, please see if your local club, marina or anywhere you can think of with a noticeboard or window display would be willing to put the poster up.
Behind the scenes, we are busy talking to various stakeholders, including the fishing community of course. We're pleased that stakeholders, including the National Federation of Fishermen's Organisations, are collaborating with the CA to find a solution. We know there's no quick fix, but we're in it for the long haul.
So please:
carry on reporting incidents to us via lobsterpots@theca.org.uk and go to the link to fill in the new RYA form
sign the petition even if you did so last spring , as votes can't be carried over, and encourage everyone you know to do the same
---
Update 12 September:
CA Lobster pots campaign – the petition is live!
A petition launched by the Cruising Association to make marking of lobster pots safer is again live after it was shut down by the Government until after the General Election.
The CA's petition obviously hit a nerve with the boating public as not only did the petition receive nearly 6,000 signatures in two weeks but the CA has received hundreds of e-mails from people in the UK and worldwide telling of their experiences. Not only were boats severely damaged – some unrecoverable – but hundreds of lives were put at risk when their boats became entangled in the lobster pot tethers.
Thanks to everyone who has expressed an interest in the CA's safety campaign which is backed by CA patron, Sir Robin Knox-Johnston and Yachting Monthly.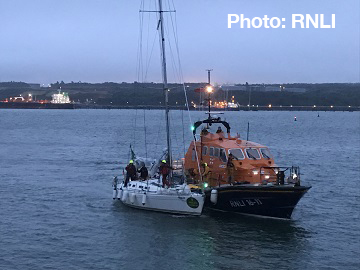 If you support the CA's campaign, please:
It's time to change the rules for safety's sake.
Further details are in the CA Newsletter lobster pot special.
---
Update from 26 April:
Lobster pot petition entangled in election preparations
We have been told that all petitions on the government website will close at 1am on 3 May because of election purdah. While we will be able to post our petition again following the election, the votes cannot be transferred, so we must begin all over again.
Our campaign for better marking of lobster pots and fishing gear has received an enthusiastic response from sailing folk and the stories are pouring in for our evidence base. We have had a most encouraging reply from the Chief Executive of the National Federation of Fishermen's Organisations offering to work with us. The number of signatories as at 26 April stands at 5389. We have clearly struck a chord.
We said we were in this for the long haul, so we will certainly be reposting our petition as quickly as we can. We'll let you know as soon as it is live and hope you will sign it again and once more encourage friends, family and other contacts to do the same. Watch this space!
---
Original news from 12 April:
Join our campaign to make lobster pot markers safer for small craft.
Some of you may have read the letter our President, Judith Grimwade, sent to Yachting Monthly on the subject of lobster pots and fishing gear and the way it is marked. They awarded her a prize!
Poorly marked lobster pots and fishing gear are the most difficult and unpredictable hazard facing coastal cruising people.
Fishermen, too, report the loss of expensive gear as a result of entanglements. These encounters could even be life-threatening. In one year alone the RNLI dealt with 295 incidents of fouled propellers. Most CA members say they would try to sort the problem out themselves so this could be a fraction of the actual number. One lifeboat station said 25% of their call-outs were purely from boats caught up in fishing gear.
We think it is time for everybody with an interest to work together to find a solution, particularly one that is cheap and practical for our fishermen. With this aim, the CA hopes to secure a government consultation about the effectiveness of the current guidance and the merits of enforceable regulations for the whole of the UK.
The MCA tells us that the same issue was raised at recent meeting of the UK Safety of Navigation committee. RATS member, John Lansdell and Ian Wilson will attend the next meeting of UKSON in May.
The CA has posted a petition on the No 10 website and hope you will sign it and encourage others to do so. We have the support of our patron, Sir Robin Knox-Johnston, and are canvassing other stakeholders and the yachting press.
Please tell your friends and family about our campaign and get them to sign. If you have personal experience of this problem, please let us know. We are keen to build a body of evidence to support the campaign for change. Email: lobsterpots@theca.org.uk