Channel Section Seminar
at CA House, London on Saturday 19th January 2019
Our seminar for 2019 includes keynote and member presentations and should be of interest to CA members and non-members as well as those familiar with the Channel area and those new to it.
Main Presentations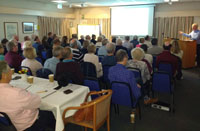 Considerations for Crossing the Channel – Brian Dandridge
For some, crossing the English Channel may appear a significant challenge. From talking to some section members we know that being out of sight of land, passage planning, negotiating shipping, handling unfamiliar marinas, communications etc. may seem daunting. This presentation will set out the key considerations for those contemplating their first crossing and also form a useful checklist for all who cross the Channel. It will provide guidance so you can make your choices and plans with confidence.
My First Channel Crossing – Wayne Bennett
Wayne and his wife were experienced dinghy sailors but made their first channel crossing by yacht in 2018. Their passage over was with a CA Rally and their passage back alone. Wayne will talk through the preparations they made, the concerns they had, how they dealt with these and the actual experience of the two crossings.
Regulations/Recommendations Changes Regarding Flares – Grant Kelly
The need to carry flares onboard for signalling distress has undergone changes because of new technologies so official recommendations and regulations have changed. This presentation will talk about the background to these changes and equipment and what they are, so you can make your decisions regarding your own yacht's equipment. Grant Kelly is a member of the CA Regulations and Technical Services Group (RATS).
An AIS and RADAR Primer – Bob Garrett
AIS is becoming more and more popular but how does it compare with RADAR? This presentation will look at how both systems work, how they compare, the various choices available and how they can be used to aid navigation. This should help both those with AIS and/or RADAR and those considering either system.
Member Presentations
Instrument Upgrade Experiences
Marine plotters or Multi Function Displays have undergone significant changes by integrating new computer technologies. Features like touch-screens, routing, remote controls, wifi connection to tablets are now on many MFDs. Three members will briefly share their experiences which include: replacing Raymarine C-Series and adding an iPad using Raymarine App; upgrading from Garmin 3005C to NMEA 2000 B&G based integrated navigation system and also integrating an iPad; and another Raymarine upgrade also including RADAR, autohelm etc and an iPad.
Home and Away
As last year, we are looking for CA Channel Section Members to talk for about 20 mins each about their home port and a favourite Channel destination. This is to provide personal and local advice plus ideas for places to visit – from a visitor's perspective.
This year presentations include Portland and Lulworth Cove/Mupe Bay/Chapman's Pool; Brixham and Beaucette; St Valery-en-Caux and Fécamp; Poole and Lezardrieux/Pontrieux

Hot buffet lunch and tea/coffee included.
Book you place(s) now by selecting the Channel Seminar at  http://thecaevents.eventbrite.co.uk/