Nick Chavasse MBE will talk on editing and updating pilot books and their relevance in the face of advancing technology.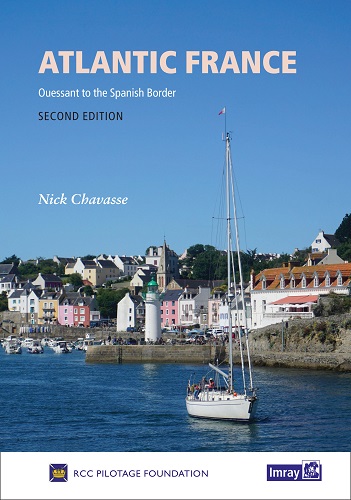 He'll describe some of the challenges in editing Atlantic France Edition 2 published in May 2018. The pilot book covers the Atlantic coast from Ushant to the Spanish Border.
Bridges and sandbanks are not the only challenges facing cruising yachtsmen. The talk will also cover how the modern pilot book needs to change its focus to complement developing technology.
Nick Chavasse was brought up sailing dinghies in the Helford River and then learned to sail yachts in the Army and qualified as a Yachtmaster Offshore. After a second career in marketing, he became the author of the RCC Pilotage Foundation's pilot book, Atlantic France (2nd edition).
Nick sails with his family on Wild Bird, a Bowman 40. In addition to detailed research on the Atlantic coast of France, he has sailed to the Azores, in Scotland, the Baltic and the Mediterranean. Nick is Vice Commodore of The Royal Cruising Club.
Date: Wednesday 4 December
Time: Lectures and talks start promptly at 1900 hrs
Place: CA House
Booking: To book places on any lecture, and to indicate whether you'll be ordering food, click on [Book Events Online]. Please pay on the door as usual. Any problems with the booking system, call or email Jeremy on 020 7537 2828/reception@theca.org.uk. Tickets are: £4 for members and £7 for non-members. Season tickets are available at £28 for the nine lectures from 2 October to 4 December. Please note that the season ticket price excludes the Christmas Celebration which must be booked separately.