Let's celebrate with Sir Robin Knox-Johnston!
CA members have this once-in-a-lifetime opportunity to pay homage to our Patron, Sir Robin Knox-Johnston, as he celebrates exactly 50 years since he crossed the finish line at the end of the original Golden Globe Race and became the first man to sail single-handedly non-stop around the world.
The full line-up of events is outlined below. We especially want to draw your attention to two specific events that are free to CA members and laid on at the Chain Locker in Falmouth, where there is a balcony which overlooks the river. We invite CA members to register their interest in attending to help us gauge catering numbers for the two buffet lunches being held on Easter Sunday and Easter Monday. Sir Robin will be in attendance for the Sunday event.
Thursday April 18 – Sir Robin departs Gosport
On April 18, between 09:00-10:00, Sir Robin will be leaving Gosport in Suhaili and anyone wishing to sail in company can do so, tracking Suhaili on AIS.
Easter Sunday April 21 - St Mawes
On Easter Sunday, a flotilla of supporting yachts will assemble at St Mawes. There are 40 mooring buoys for boats up to 12m; larger boats should contact the harbour master, Martin Bidmead, on 01326 270553 or email: info@stmawesharbour.co.uk.
Lunchtime: The CA is hosting a lunchtime reception with a buffet for CA and Little Ship Club members at the Chain Locker in Falmouth, the pub that Sir Robin stayed in 50 years ago when he won the Golden Globe. He will be joining in the fun and looking forward to meeting members of the CA. Turn up between 12:00 and 15:30.
Evening: St Mawes Sailing Club, in conjunction with the Cruising Association, Little Ship Club and Clipper Ventures, welcome flotilla crews to the evening party at the St Mawes Sailing Club from 18:00 – 20:00; tickets are £25 including a donation to charity. For those not attending by boat you can also book a special charter ferry from Falmouth to St Mawes and back.
Easter Monday April 22 – Falmouth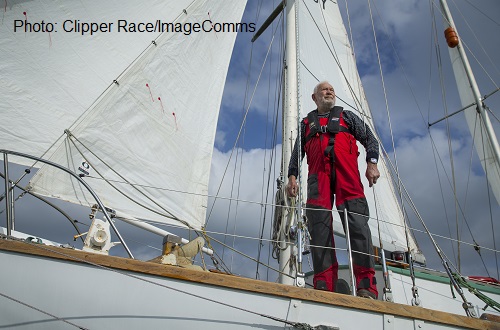 Morning: "In Conversation with Sir Robin Knox-Johnston and Mike Golding OBE" 
There is an opportunity to join us at the National Maritime Museum Cornwall (NMMC) in Falmouth for an unmissable opportunity to hear this British sailing icon giving first-hand accounts of his epic voyage to one of the world's most accomplished offshore sailors, Mike Golding OBE; 09:30 – 11:30 and booking is now open: https://www.eventbrite.com/e/in-conversation-with-sir-robin-knox-johnston-and-mike-golding-tickets-58288790341.
The NMMC is also staging an exhibition from April 8 throughout the summer, exhibiting items and photographs from Sir Robin's personal collection as well as a commemorative documentary that is currently in production.
Lunchtime: While Sir Robin is making final on-water preparations to re-enact his epic race finish, the CA will again be offering lunchtime hospitality from 12:30 at the Chain Locker with a buffet for CA and Little Ship Club members. An indication of numbers would be useful so please let us know by registering here if you want to attend.
Afternoon: At 15:25 Sir Robin, aboard Suhaili, and accompanied by Lively Lady, will cross the finishing line at Falmouth with a supporting flotilla of yachts. He may do a small parade of sail around the harbour before setting out so that you can watch him from the shore.
Evening: There will be a big party hosted by the Royal Cornwall Yacht Club that evening. Tickets are limited but we have an allocation and they can be purchased through the CA website: Book online here.
Do consider joining this unique occasion afloat or ashore. For more information, contact Lucy Gray via email: generalmanager@theca.org.uk