In April, the CA launched its Refer a Friend monthly prize draw, which runs through until the end of September 2022.
Membership of the Cruising Association grows through personal recommendation – so when a CA member invites a friend to join, your friend enjoys 25% off membership and you receive a CA shop £20 voucher* and automatic entry into that month's prize draw.
April's 'Refer a Friend' prize was in partnership with VirCru Smart Boat System, and congratulations to CA member Mike Croft who has won himself a VirCru Launch Package plus 3 months free subscription, worth £436.
"I am delighted to have won the VirCru monitoring system," said Mike, "particularly as my Maxi 1100 is based on the West coast of Scotland and I live in Dartmouth in Devon! I look forward to being able to check on the boat's systems remotely. Many thanks CA and VirCru!"
'Refer a Friend' and win an Icom handheld VHF in May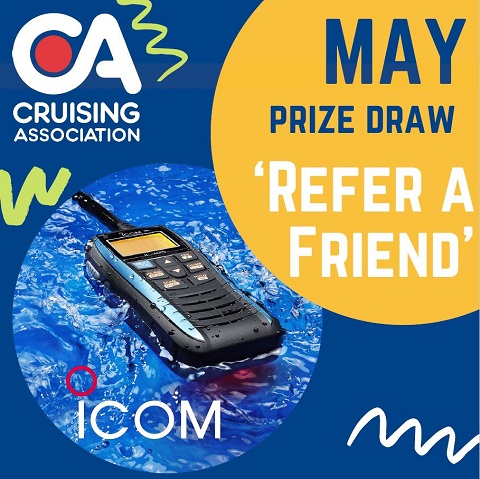 Until the end of May 2022, the 'Refer a Friend' prize is an Icom handheld VHF IC-M25EURO radio worth £140. Icom's IC-M25 buoyant marine VHF radio floats and flashes when dropped into the water, has the lightest body in the market, just 220g, for a floating VHF. New for an Icom, this new radio has a tidy USB connector for convenient charging from a variety of electronic devices.
Future monthly prizes coming up are:
June / fenders from AquaMarine, worth £150
July / Spinlock Deckvest LITE+ 170N life jacket courtesy of Topsail Insurance, worth £140
August / Cleaning bundle from ASAP Supplies, worth £150
September / £150 voucher to spend on charts and books from Imray
How to 'Refer a Friend' to join the CA
Introduce your friends to the Cruising Association through our 'Refer a Friend' programme and they will enjoy a 25% discount on the first year of CA annual membership (when paying by Direct Debit). You will receive a £20 voucher* to spend in the CA Shop and be automatically entered into our monthly prize draw. And there is no limit to the number of friends you can introduce to CA membership.
First up, your friend can take a look at the numerous opportunities and benefits the CA membership will give them:
Membership benefits
Membership Brochure
If they have any questions about membership, they can call our team on +44 (0)20 7537 2828, click on the LiveChat logo on the website homepage or email office@theca.org.uk.
Joining is easy. To get started, simply give your friend the discount code you can access on our member only Refer a Friend page. Then send your friend the link to www.theca.org.uk and they just need to click 'Join'. Within the joining process, on the page headed 'Your Details', ask your friend to add your name under 'Recommendation'. On the Payment page, under the 'Promotional Code', they should enter the code you have shared and they will soon be enjoying a 25% discount on their first year's membership fee (payment by Direct Debit).
*CA £20 shop voucher is valid for one year from issue.
5 May 2022