Celtic Seminar - The Wild West: Cruising The Celtic Fringe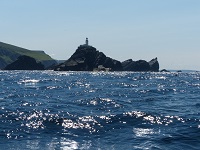 Date: Saturday 25th of February, start time 10:00 am.
Place: CA House
The western coasts of our islands provide some of the most rewarding cruising grounds in Europe. The Irish coastline along the stunning and unspoiled West Coast is high, with dramatic scenery and offshore islands steeped in history and culture, with a plentiful number of fine, natural harbours, generally easy tidal streams and a lack of crowding in anchorages or on passage all make for peaceful pleasant sailing with little hassle.
Heading north we come to 120mile run of islands which are the Outer Hebrides, from Barra Head in the south to the Butt of Lewis in the north the islands are exposed to the Atlantic on their western side but providing shelter on the eastern side this is some of the most varied and rewarding cruising imaginable.
Continuing north and east we reach the Orkney Islands, an archipelago of around 70 islands which is a cruising ground in its own right. Different again from the rugged Outer Hebrides, Orkney is more pastoral with thriving communities and overflowing with history. Further north Shetland is more rugged, more dramatic and by the end of our journey at Muckle Flugga we are further north than Oslo or St.Petersburg.
Speakers will include winner of the 2009 Love Cup, Terry McMenamin, Commodore of the Royal Highland Yacht Club, Boyd Holmes and three times round Britain sailor Derek Lumb.
The programme is:

Preparing for the Wild West
10:00 – 10:45 Coffee and Registration
10:45 Introduction and preparing for the wild west.
11:00 Rounding Land's End
11:15 Atlantic Ireland (Tusker Rock to Fair Head) - Terry McMenamin
12:00 Break
12:15 Atlantic Ireland (Tusker Rock to Fair Head) contd. - Terry McMenamin
12:45 Lunch
14:15 Outer Hebrides - Boyd Holmes
15:30 Break
15:45 Orkney and Shetland - Derek Lumb
17:00 Open forum
17:30 Close. & Bar Opens
CA members £32.50 or £60 per couple Non-Members £47.50* Cost includes tea/coffee. Two course hot buffet lunch *There will be a £15/person refund for those who join on the day.
It's a great help if you can book online here, click on the Celtic Seminar entry and follow the 'book here' link. In case of difficulty, call the office on 0207 537 2828.
There will be a Whisky Tasting with Haggis Supper at 19:00 which is open to all – see separate notice here. Update 18th February - the Whisky Tasting is now fully booked.