CA Site Ring
You selected next in the CA sitering. A preview and link to that site are shown below. Alternatively, click here to go to the site ring directory.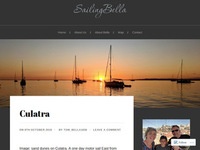 Sailing Bella
SailingBella
We are a family of four from Cowes on the Isle of Wight. We are sailing together on our Rival Bowman called Bella. This photo-blog is our place to show family and friends what we are up to with our news items and photographs.
As we travel through Europe and eventually across the Atlantic Ocean we will be home-schooling (or boat-schooling) our two sons. We will also be writing about our journey on this educational path.
Regards,
Phil, Tom, Stan and Ted
www.SailingBella.uk