CA Site Ring
You selected next in the CA sitering. A preview and link to that site are shown below. Alternatively, click here to go to the site ring directory.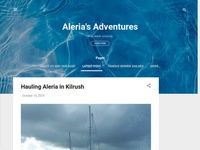 Aleria's Adventures
This is our boat blog in which I chronicle our cruises in Europe and various other boating topics. There is a considerable amount of information about sailing along the remote west coast of Ireland, which has been published in a book called Cruising the Wild Atlantic Way. There is also a good deal of information about cruising in Scotland, specifically in the Inner Hebrides, and in Galicia, Spain. I am the editor of the CA Almanac for the west of Ireland.

A previous blog covered the United States, Canada and the Atlantic Circuit, including crossing the Atlantic from Canada to Ireland, Spain to the Caribbean, and Caribbean to Ireland via the Azores. Articles about our stops along the way can be found on our website, www.coastalboating.net. That website also contains many articles based on our best-selling book, Happy Hooking. The Art of Anchoring.