CA Site Ring
You selected next in the CA sitering. A preview and link to that site are shown below. Alternatively, click here to go to the site ring directory.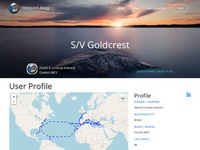 Cruising blog for Goldcrest & Red Panda
This is the cruising blog of David & Lindsay Inwood, full time live-aboards (ie sold up to go sailing), initially in our Najad 391 "Red Panda" and then in our Contest 48CS "Goldcrest". It covers our voyages from 2009 onwards, starting as real rookies sailing into the Med, a couple of years getting to Turkey & back to the UK, changing boats for ocean passages & crossing the Atlantic to the caribbean. There our plans changed and we spent a year or so doing most of the US east coast, a tiny bit of Cuba &Mexico before heading back to Europe. We had an eventful east-bound Atlantic crossing and are now back in the Med.