Over 40 skippers and crew joined the first Zoom meeting of CA's Crewing Service, held on Thursday 24 November.
Meetings are normally held at CA House, giving skippers and crew the opportunity to meet and discuss plans for the next boating season as well as enjoying a sociable evening. The restrictions due to the pandemic and consequent move to hold the meetings via Zoom meant sharing a chat and a drink had to be virtual, but it has opened up the meetings to more skippers and crew, with several joining who live well outside London, including one skipper from Scotland.
Whilst nothing is certain about the possibilities for cruising next year or the restrictions that may affect plans, skippers and crew are upbeat about the chance to get onto the water again. There's a quiet optimism that with advent of a vaccination programme and better track and trace, testing, things might return nearer to normal next summer.
Dates and details for future Crewing Service Zoom meetings will be advised in due course. Once the pandemic restrictions ease to allow us to meet at CA House, plans are being made to continue holding Zoom meetings as well to allow those from further afield to take part.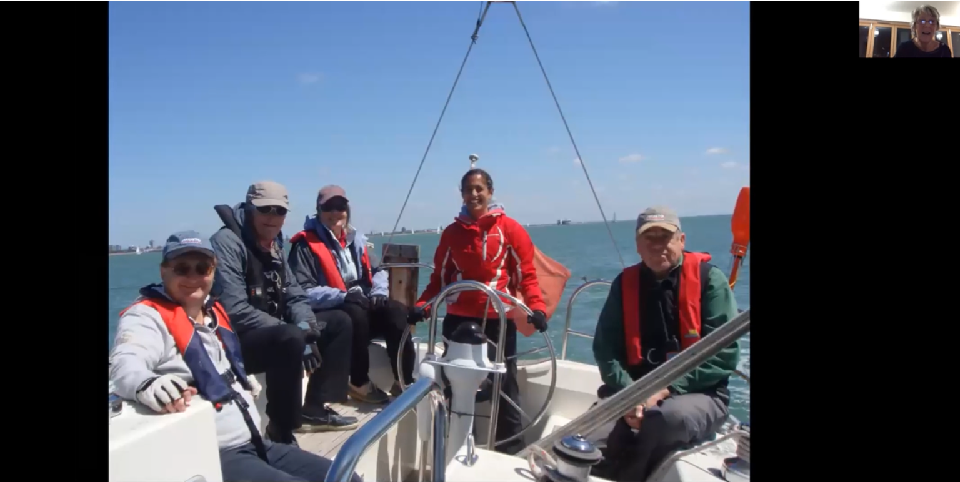 Skipper Sue Gibson during the Zoom meeting and photo of her crew
What's it like to be a Crewing Service member?
We're thrilled that Crewing Service member Michael Barnett has shared his first experience with the Crewing Service, travelling from Dubrovnik through to Greece aboard a Grand Soleil 43 with skipper Neil Lerner. Read the full story of his adventure here (PDF) or by clicking on the image.
Inspired? Find out more about taking your first step in your new crewing adventure