CAptain's Mate app provides an unrivalled breadth of information and cruising reports covering 6,500+ locations in 70+ countries around the world, providing you with up to date, accurate and informative location data on anchorages, marinas, ports, harbours, boatyards along with their facilities and amenities.
Each month we feature a CAptain's Mate location to inspire you on your cruising adventures and display the vast depth of information on the app. In January we headed to Finike in Turkey, February took us to Grimsby in the UK, and Lagos in Portugal was March's destination. For April, as some of our UK members look ahead to cruising across the channel, we drop in on Lézardrieux, France with CA member Frank Singleton.
Frank has cruised extensively and is a keen contributor to CAptain's Mate, sharing his first-hand knowledge. Frank has visited Lézardrieux several times, posting updates over the years on this charming Breton town on the Côtes d'Armor in north-western France. The village is situated near the mouth of the estuary of the Trieux river, where the suspension bridge across the river at this point is a French national monument.
After visiting last summer, Frank reported:
"The Bureau de Port is now a modern building with facilities to match and is part of the Bureau de Tourisme. Showers and toilets are in the main building, open H24.
On the water, the downstream pontoon now has a dog leg at the outer end. The hammer head has been greatly lengthened downstream to accommodate large vessels that serve the construction of the marine wind array in the Bay of St Brieuc. This part of the pontoon is private and, in any case, not suitable for leisure vessels. Otherwise, there looks to be as much room on the hammerhead as previously.
In the village, it is good to see that the "new" creperie, the Lez Ar Dreo, has survived Covid and is still well supported by locals."
The cruising community is known to search out local gastronomy and Frank is no different, sharing:
"A great find was a new crêperie in the village square. The seemingly rather naff name is Lez Ar Dreo. The owners claim that that means L'art des crêpes. Maybe, maybe not but the crêpes were truly excellent. A little different with a little imagination. Even the hyper critical Jennifer was moved to say 'superb and delicious'. We will certainly go there again."
Significant updating to the marina facilities at Lézardrieux has taken place in recent years, which feature plenty of onsite and nearby amenities, as well as great transport links for those who wish to explore further or have crew departing/arriving.
If you plan to visit Lézardrieux from the UK, please note that it is not a port of entry. The nearest is Saint-Brieuc, although Frank Singleton also reported that in 2021 they could not stamp passports. CA members can login into your account and refer to France – Channel – Entry procedures & ports of entry for up-to-date information
Head to CAptain's Mate app to catch up on the other reports on Lézardrieux from CA members.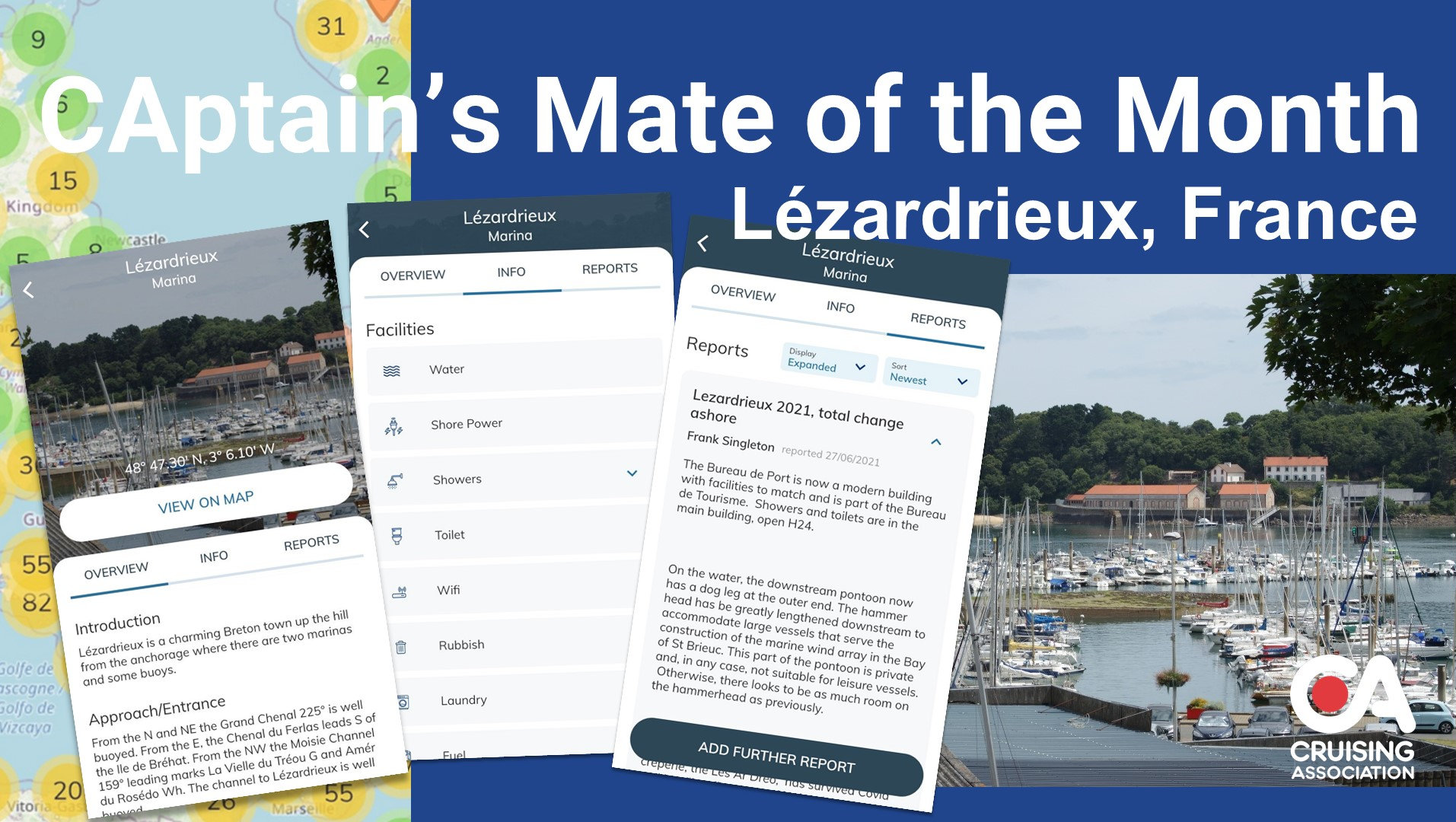 CAptain's Mate – be part of it
Available on iOS, Android and web, CAptain's Mate app is exclusive to members, delivering digital cruising information. Discover more about CAptain's Mate.
CAptain's Mate app – what our members say