Each month we highlight a CAptain's Mate location to inspire your cruising adventures and share the vast extent of information on our exclusive to members CAptain's Mate app.
Finike in Turkey was January's destination, February took us to Grimsby in the UK, we headed to Lagos in Portugal for March and Lézardrieux in France for April.
For May, we cross the Atlantic to the stunning island nation of Cuba. Offering a fantastic voyage of discovery on azure waters, Cuba has plenty to discover along its coastline, towns and cities. Many CA members have visited locations in Cuba and shared their insights on CAptain's Mate, and for this report our thanks to Nicky Barker who made landfall at Santiago de Cuba, located mid-way along Cuba's southern coast.
Nicky and her husband Reg have extensively cruised 'Blue Velvet', their Rustler 42 cutter rigged yacht, and you can follow their explorations on their blog.
CAptain's Mate has a comprehensive overview on Santiago de Cuba, detailing custom protocols, alongside information on local facilities. Nicky shares her first-hand experience in the report section, so you know what to expect when you arrive and plenty of information on local services and facilities.
"Despite what we had read to the contrary, the regular ferries to and from Santiago and Isla Granma do not cause a problem in the anchorage off the marina. There are few facilities in the immediate vicinity of the marina. Most food shops etc (including the ETECSA office where you can buy internet access cards) are in central Santiago."
Nicky's report goes on to describe the various transport and price options – ferry, bus, taxi - to Santiago city. Once in the city, her valuable local knowledge directs you to the best shops for essential stores, as well as info on the local market:
"Market. There's a good market (fresh veg and fruit, meat and fish), 'La Plaza', on Francisco Vicente Aguilera (aka 'Marina'). Go in the morning for the best selection. Plenty of choice – no worries about provisioning for a week to 10 days. You will need to ask if you want to buy eggs and someone will summon the egg-seller. Prices in CUP. Take plastic bags or boxes for fresh meat as it will be handed to you, fresh off the butcher's block, with no packaging. It might be possible to buy plastic bags from the bag-seller at the market entrance, but she is not always in evidence."
The report continues with information on currency exchange (and the difference between CUP - national peso, and CUC - convertible peso), top spots to visit and vital info on getting crew to/from Santiago, with different taxi options boosting or otherwise the boat kitty:
"There is an international airport close to Santiago de Cuba. The bus between the marina and the city runs via the airport but bus timings are variable and it may be best not to depend on them. The easiest way to get to the airport is by taxi. Apparently, a taxi from the marina, to the airport and returning should be about 15CUC. A one-way taxi should be about 8CUC. Haggle hard. The government taxi organisers at the airport insisted on 15CUC one-way to the marina in the early evening, but a non-government taxi driver can offer a ride for 9CUC."
Head to Santiago de Cuba on CAptain's Mate to read Nicky's full report.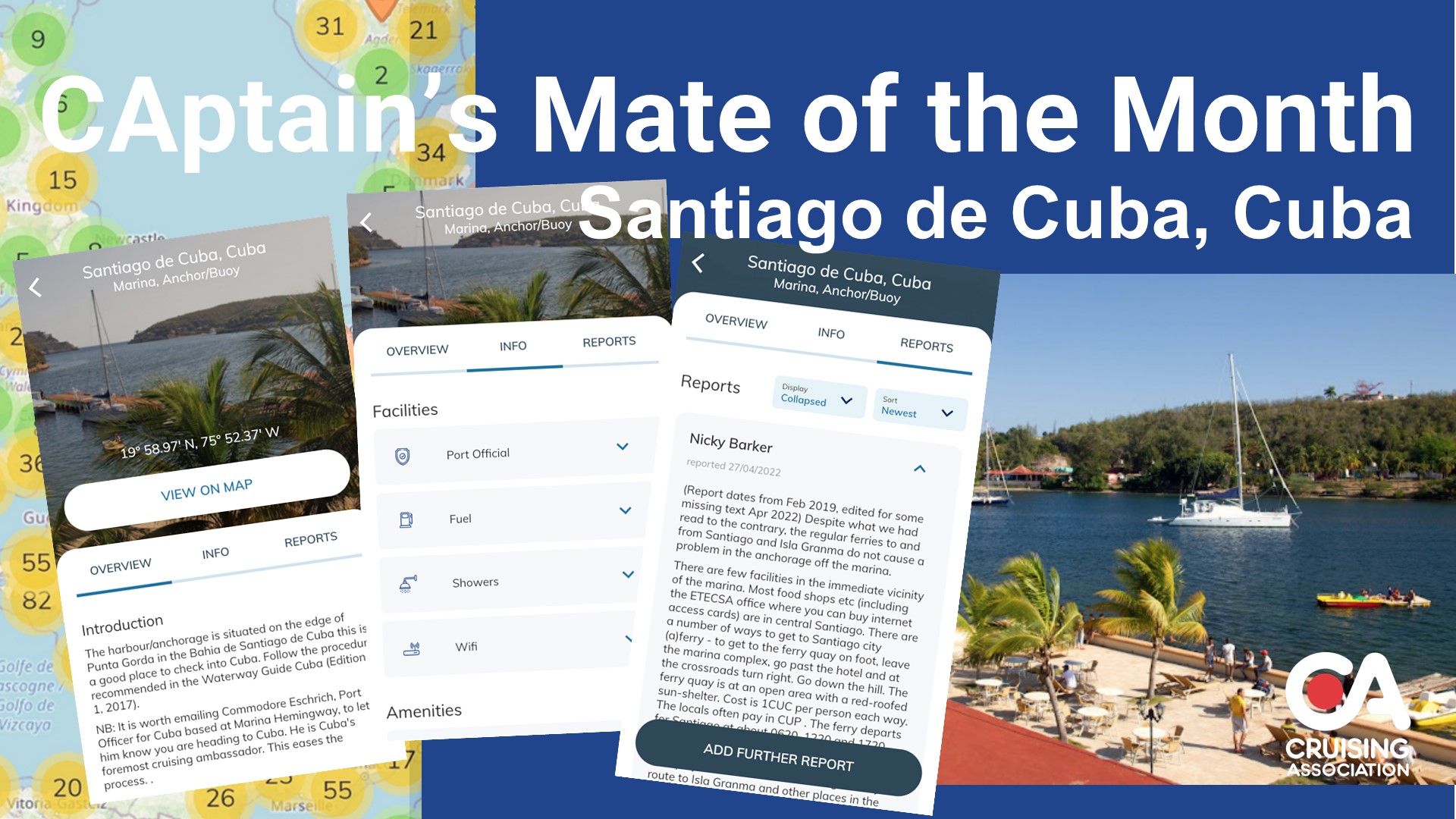 Honorary Local Representatives
The CA has two Honorary Local Representatives in Cuba, who will share their experience and support members. HLRs volunteer local knowledge and help CA members in whatever way they can making their support an invaluable resource. Members can find out more on the members' HLRs in Blue Water cruising regions page. You can also find HLRs on CAptain's Mate – simply select 'HLR' under the 'Filter by Facility' option.
About CAptain's Mate
CAptain's Mate app provides an unrivalled breadth of information and cruising reports covering 6,500+ locations in 77+ countries around the world, providing you with up to date, accurate and informative location data on anchorages, marinas, ports, harbours, boatyards and quays. 20,000+ member contributions and reports provide first-hand insights and practical knowledge on locations, facilities and local interest.
6 May 2022