If you are interested in cruising-in-company, exploring new cruising grounds or looking for inspiration for your next cruising adventure, then take a look at the CA rallies coming up this season.
A CA rally is for everyone, whether you are new to sailing or motorboats or a seasoned cruiser. Sometimes a first time explore to waters new is best undertaken with experienced support around you, or you may be experienced and enjoy the company and social aspects of cruising-in-company. Whichever you are, you can be sure that the mix of cruising, fun and socialising will make every rally an experience to remember, as well as being a great opportunity to meet up with old friends and make new friends.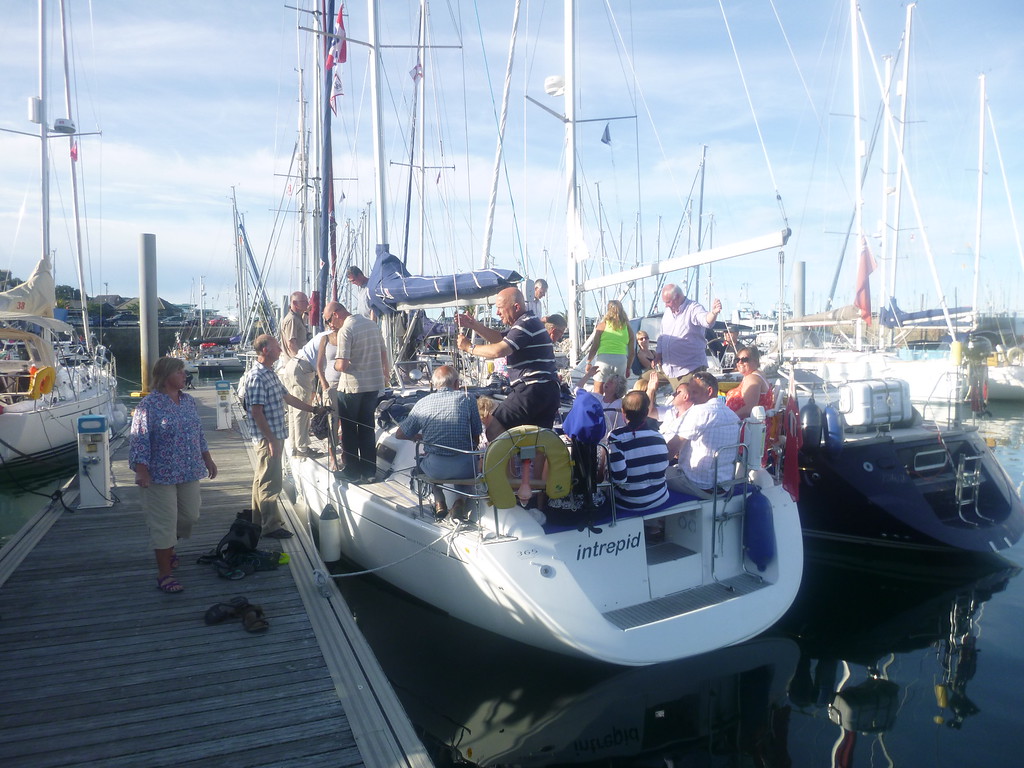 Image: Bob Garrett
Our rallies offer fun and social cruising-in-company, with plenty packed into the days beyond the cruising. CA members are welcome to join any of these rallies hosted by CA Sections in the UK and internationally:
30 April-2 May / East Coast Spring Rally - UK
Hosted by the CA Suffolk Section, the East Coast Spring Rally takes place over the first May bank holiday weekend and will be mainly based out of the Royal Harwich Yacht Club.
Whether you have a boat or not, come and enjoy a sociable and fun event-packed bank holiday weekend, including a passage race, indoor pontoon party, cruise with clues on the Orwell and stour, day trip to Harwich with guided tour, visit of the Ganges Museum, art exhibition, short quiz, walk to Pin Mill, supper at Royal Harwich Yacht Club and more.
Discover more about the East Coast Spring Rally
6-8 May / Solent Section Fitting Out Rally - UK
The CA Solent Section is hosting this two-day rally based at Shepards Wharf Marina, Cowes. The plan is that those who can, arrive on Friday afternoon/evening for socialising on their own boats, with Saturday daytime at leisure to explore or revisit the delights of the island, joining up with members who prefer to arrive on Saturday for drinks and a meal in the evening. Departure will be on Sunday morning.
Discover more about the Solent Section Fitting Out Rally
8-17 June / Cross Channel Rally - UK, Channel Islands and France
The CA Channel Section Cross Channel Rally/Cruise-in-Company has two starting points; from Yarmouth in the Solent and Dartmouth in the West Country. Both cruises offer the attraction of cruising-in-company, with local tourism opportunities, drinks and dinners, events at local clubs, walks and general socialising.
The start in Dartmouth will cruise to Braye in Alderney, with the start in Yarmouth heading to Cherbourg in France. Both flotillas will then cruise onwards to meet and combine in St Peter Port, Guernsey, then on to Carteret in France, where, after some further shore attractions, the rally ends. Spaces will be limited.
Discover more about the Cross Channel Rally
12-19 June / Nicholas Hill Memorial Rally - Denmark
All are welcome to join this cruise-in-company in southern Denmark, from Bagenkop to Nyborg, hosted by the CA Baltic Section.
12 June - meet at Bagenkop
14 June - sail from Bagenkop to Ærøskøbing
15 June - day in Ærøskøbing
16 June - sail from Ærøskøbing to Svendborg
17 June - day in Svendborg
18 June - sail from Svendborg to Nyborg
19 June - Nyborg
Rally details are being finalised and will include visits to museums and other places of interest, a possible steamer trip to visit a palace as well as BBQs, restaurant dinners, and hopefully meeting two of the CA's Danish Honorary Local Representatives. Rally numbers are limited due to the size of some of the harbours.
Discover more about the Nicholas Hill Memorial Rally
17-18 August / British Firework Championship Meet-Up - UK
After the successful mini-rally last year, the CA Channel Section is again hosting a meet-up to coincide with the British Firework Championship in Plymouth. The fireworks are free, with participants responsible for booking marina berths or anchoring off at Cawsands or Jennycliff and making your way to Queen Anne's Battery.
Discover more about the British Firework Championship Meet-Up
Cruising Association Sections
Make sure you sign up to the various CA Sections to ensure you receive the latest news, updates and events and join the Section forums for cruising information on the area. The CA 'Cruising Sections' cover sea areas whilst 'Local Sections' are UK based, and the Antipodean Section is for members in Australia and New Zealand.
Members can join as many Sections as you like, and there are plenty of opportunities to get involved in events and discussions most relevant to you and your cruising:
Cruising Sections - Baltic, Biscay, Blue Water, Celtic, Channel, European Inland Waterways, Mediterranean, North Sea
Local/UK Sections - London, East Midlands, Essex, Kent, Solent, South West, Suffolk, Thames Valley, Wessex, West Midlands
Antipodean Section
13 April 2022