Since January 2022, we have been showcasing just a few of the 6,500+ locations featured on the CA's exclusive to members CAptain's Mate app.
The Baltic is always a popular cruising area, and for June we drop in on Estonia and the stunning harbour town of Kuressaare on the Island of Saaremaa - said to be the most beautiful area of Estonia. With a long unspoiled 3,800 kilometre coastline, far lengthier than its land border, Estonia is full of hidden gems of harbours as well as 2,000+ stunning islands to explore. In 2021, CA members Peter and Claire Bishton undertook an extensive trip along the Estonian coastline and shared plenty of insights on CAptain's Mate. For them though, Kuressaare was something special.
Peter shared his thoughts, reflecting, "Kuressaare was one of the highlights of last year's trip and we were sad to leave after our 3-night stay. The marina has an excellent harbour master who was exceedingly helpful and friendly."
The friendly harbour master has also been known to wear his Cruising Association polo shirt when welcoming visiting CA members! There are several member contributions on Kuressaare, with Peter and Claire, reporting:
"Lovely spot, very close to the town & amazing castle. Loads of space during our visit early August and difficult to see how it could be full given all the visitors stern to buoys, pontoons and alongside options. Supermarket, excellent restaurant, washing machines etc all available. Very friendly harbour master. Highly recommended. (2.5m depth all the way up the dredged channel)."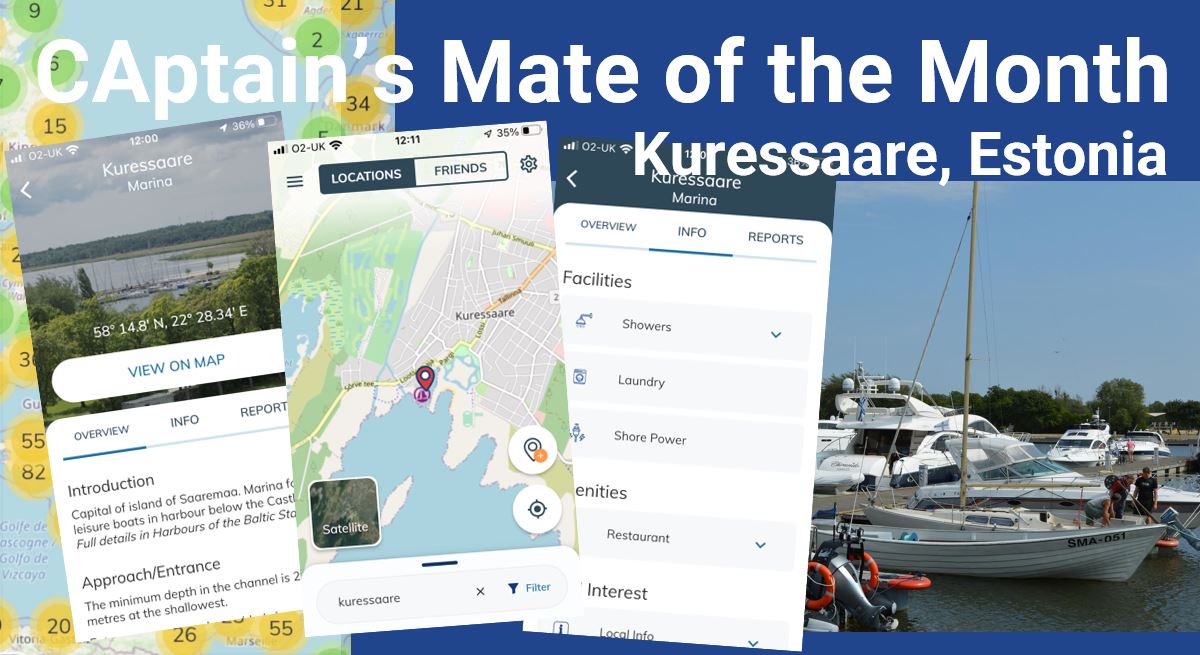 The modern marina has plenty of berthing and shelter whatever the wind direction, with shore-based facilities including water, power, showers, laundry, restaurant and marine services. The marina is only a 5-minute walk from the centre of Kuressaare, and a 10-minute drive from the airport, which has a daily flight to Tallinn, the capital of Estonia. Head to CAptain's Mate app to discover the many other locations in Estonia and throughout the Baltic.
CA members can also login to your online account and download free PDF copies of the following Cruising Guides, which both feature Estonia:
Harbours of the Baltic States 2019
Baltic Layup Directory 2022
About CAptain's Mate
CAptain's Mate app provides an unrivalled breadth of information and cruising reports covering 6,500+ locations in 70+ countries around the world, providing you with up to date, accurate and informative location data on anchorages, marinas, ports, harbours, boatyards along with their facilities and amenities.
Available on iOS, Android and web, CAptain's Mate is exclusive to members. Discover more at www.theca.org.uk/public/captainsmate
CAptain's Mate of the Month locations
Each month we feature a CAptain's Mate location to inspire you on your cruising adventures and display the vast depth of information on the app. In January we headed to Finike in Turkey, February took us to Grimsby in the UK, Lagos in Portugal was March's destination, Lézardrieux, France in April and Santiago de Cuba, Cuba in May.
6 June 2022