This edition of CAptain's Mate of the Month, we find ourselves in the delightful southern Finland town of Tammasaari.
Though it requires a detour upriver off the main east/west passage channels, the journey is rewarded with a well-equipped marina and choice of berthing – buoys, quay or pontoon – along with a fascinating old town and a variety of local sights.
The nearby town of Ekenäs serves as a convenient hub, providing excellent transportation connections to Helsinki and the airport, making Tammasaari an ideal changeover harbour.
CA member Nicholas Orbell added his CAptain's Mate report on Tammasaari after visiting in August this year, saying:
"Visited late July immediately after end of Finnish holiday season. Many visitor spaces; choice of quay or pontoon (all bows to with stern pick up buoy). A much better proposition than Hanko in my view; whilst a slight detour off main passage channels, it is quite sheltered and easy to access. Fuel pontoon on auto-card operation. Cost €25/night inc (12m).
The "old" town has much character, very Swedish in nature (Swedish is widely spoken here), has some good cafés (try Café Gamla!), and a popular pizza restaurant run by Michelin chefs. The big supermarket is under 15mins walk, close to station."
Onsite facilities also include electricity, showers, laundry, fuel, bike hire.
Members can discover more information about Tammasaari on CAptain's Mate or via the web version. The CA has three Honorary Local Representatives (HLRs) in Finland, details of which are on the cruising information on Finland page and via CAptain's Mate.
Also available is the CA Cruising Guide to Finland, which members can buy as a print copy and is also free to members as a PDF download. The Baltic Layup Directory covers a range of locations in Finland and is free to members as a PDF download.
If you are interested in Baltic cruising, then don't miss our upcoming events at CA House, London: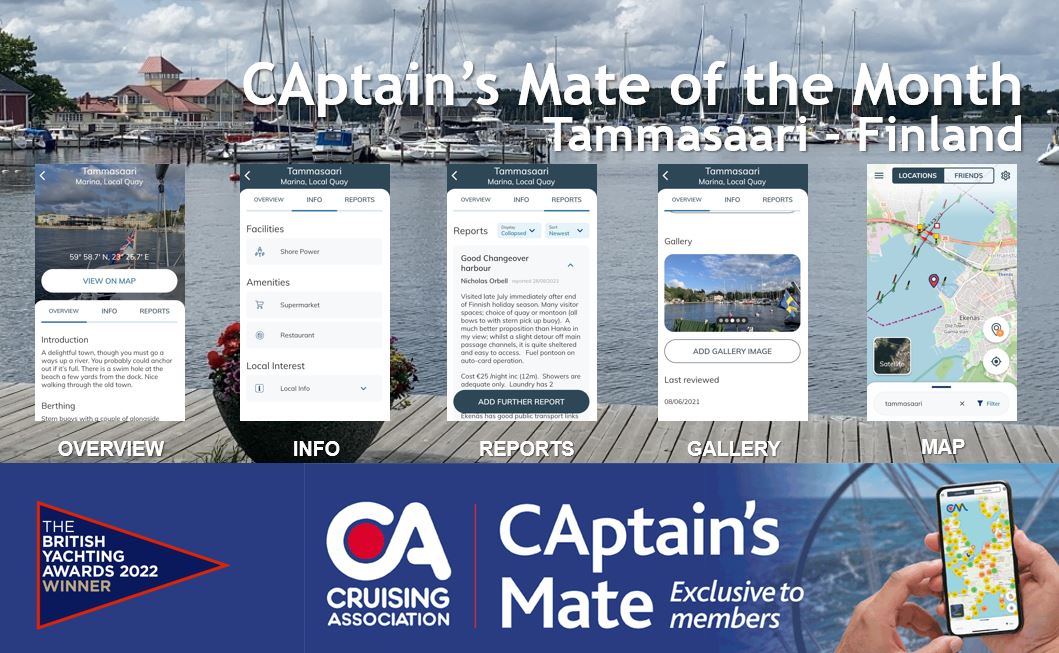 About CAptain's Mate
CAptain's Mate was voted as the 'Equipment Innovation of the Year' at the 2022 British Yachting Awards. CAptain's Mate app provides an unrivalled breadth of information and cruising reports covering 7,500+ locations in 100+ countries around the world, providing you with up to date, accurate and trusted location data on anchorages, marinas, ports, harbours, boatyards along with their facilities and amenities. Available on iOS, Android and web, CAptain's Mate is exclusive to members. Discover more about CAptain's Mate.
CAptain's Mate of the Month locations
Each month we feature a CAptain's Mate location to inspire your cruising adventures and display the vast depth of information accessible on the app. So far in 2023 we have headed to Visby - Sweden in January, Seville, Spain in February, Antwerp, Belgium in March, Sassnitz, Germany in April, Tangier, Morocco in May, Amsterdam, Netherlands in June, Alkionidhes Islands, Greece in July, Porto Montenegro in Tivat, Montenegro in August and Skjaerhalden, Norway in September.
9 October 2023