CA member Chris Blackburn shares his experience of visiting the Latvian capital city of Rīga, during August 2023.
Rīga, a Hanseatic city on the banks of the Daugava River and located 8 nm inland, should not be missed when sailing this area.
Rīga Marina offers visitors a choice of finger pontoons, some alongside berths and stern buoys. Highlighting the Rīga Marina facilities, Chris commented, "Pontoons on ferry terminal side had plenty of space, electricity & water.
"Shore facilities consisted of 1 toilet & 1 shower. Very convenient for old town, however nightclubs at the northern end are loud."
There are a number of facilities onsite, including fuel, whilst additional facilities nearby, include the City Yacht Club Marina (Pilsētas Jachtklubs) located across the bridge from Rīga Marina and a short walk away from the city centre and Old Rīga.
Chris visited other locations in Latvia this summer, also submitting a CAptain's Mate report on Mersrags, along with updates on harbours in Estonia.
Members can discover more information about Rīga and other locations in Latvia on CAptain's Mate or via the web version. The CA has Honorary Local Representatives (HLRs) in Latvia, details of which are on the cruising information on Latvia page and via CAptain's Mate as well as a guide on 'Useful Information if going to Latvia'
If you are interested in Baltic cruising, then don't miss our upcoming events at CA House, London: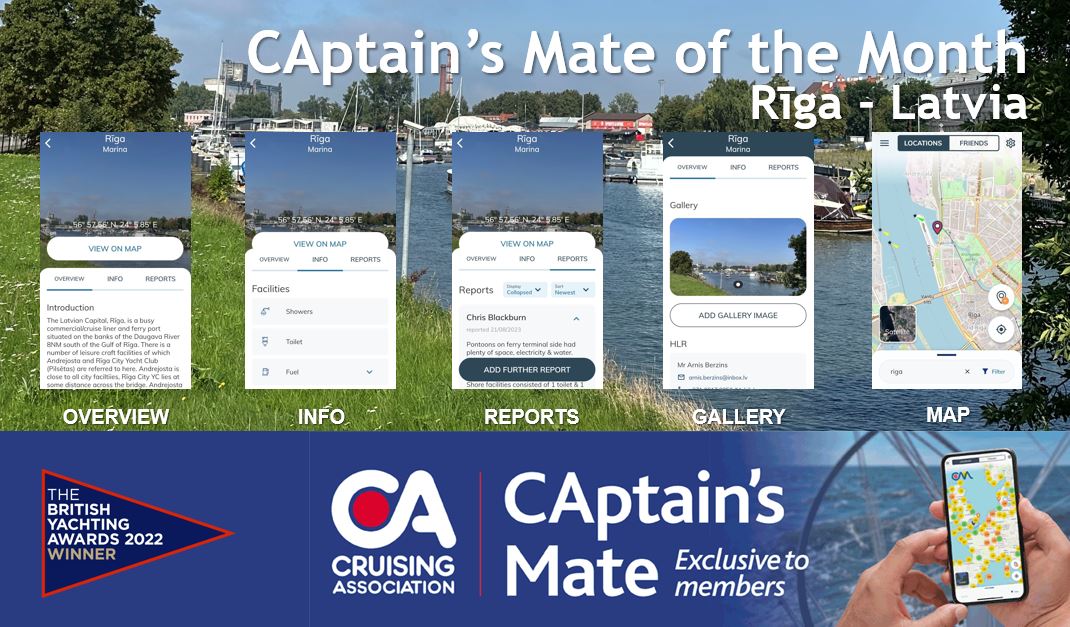 About CAptain's Mate
CAptain's Mate was voted as the 'Equipment Innovation of the Year' at the 2022 British Yachting Awards. CAptain's Mate app provides an unrivalled breadth of information and cruising reports covering 7,500+ locations in 100+ countries around the world, providing you with up to date, accurate and trusted location data on anchorages, marinas, ports, harbours, boatyards along with their facilities and amenities. Available on iOS, Android and web, CAptain's Mate is exclusive to members. Discover more about CAptain's Mate.
CAptain's Mate of the Month locations
Each month we feature a CAptain's Mate location to inspire your cruising adventures and display the vast depth of information accessible on the app.
So far in 2023 we have headed to Visby - Sweden in January, Seville, Spain in February, Antwerp, Belgium in March, Sassnitz, Germany in April, Tangier, Morocco in May, Amsterdam, Netherlands in June, Alkionidhes Islands, Greece in July, Porto Montenegro in Tivat, Montenegro in August, Skjaerhalden, Norway in September and Tammasaari, Finland in October.
2 November 2023